Tey Al Rjula spent two years in a refugee camp in the Netherlands. But his experience with bitcoin inspired him to change the ID system through revolutionary technology: blockchain.
By Valentina Primo
"I wanted to sign the deal at the entrance door of the refugee camp," says Tey Al Rjula, as he unveils the $450,000 pre-seed round he closed last year for his startup, Tykn, which uses blockchain to give stateless people a form of virtual identity. He is wearing a grey jumper, white sneakers, and a mischievous smile that cries the perspicacious hacks he's had to craft since the day he came up with the idea, in a tiny room in the Ter Apel refugee camp.
"Everybody in the camp told me I was crazy. 'No one will pick up your idea,' they said when we entered the Startup Weekend competition. 'We believe in you, but we are refugees; nobody will listen to us. We can barely communicate with Dutch people,'" he recalls. "Yet we won it – and everyone was so happy. I was as if the whole camp had won."
"We believe in you, but we are refugees; nobody will listen to us. We can barely communicate with Dutch people."
The cobblestones mirror a peach-coloured sunset as we walk out of the Roman restaurant in picturesque Trastevere. An hour earlier, on stage at the Rome Startup Week, as Tey spoke to an eager audience of Italian entrepreneurs, a giant photo of his room in that refuge camp stood behind him.
"It was in this small room that I started working on Tykn. I didn't have an identity, I didn't have a bank account; I was literally invisible, nobody knew about me. Not even my family knew that I was  applying for asylum, because I didn't want them to fear for my life," he says.
But Tey's journey into the refugee camp does not match the stereotype. "I speak in Lebanese dialect. I don't speak Syrian. So when other refugees heard my accent, they they got furious: 'Because of you guys, our country is destroyed', they would say.
Tey's words are poignant; they are provocative and piercing, as if they were loaded with an insatiable thirst for growth and unmeasurable resilience. How did this bitcoin miner, who had a stable salary, an apartment, and a pet end up in one of the largest refugee camps in the Netherlands? How did he manage, just two years later, to shake hands with the Dutch prince and launch his blockchain startup?
"I didn't arrive in Europe illegally," he narrates. "I have visas in my passport, I have a tax number, an insurance, a house and a car – I even had a dog," he says. Tey had moved to Dubai at a young age, and in 2010 got a job offer in the Hague, a city pierced by canals and inhabited by some of the world's largest humanitarian organisations, as well as the International Criminal Court.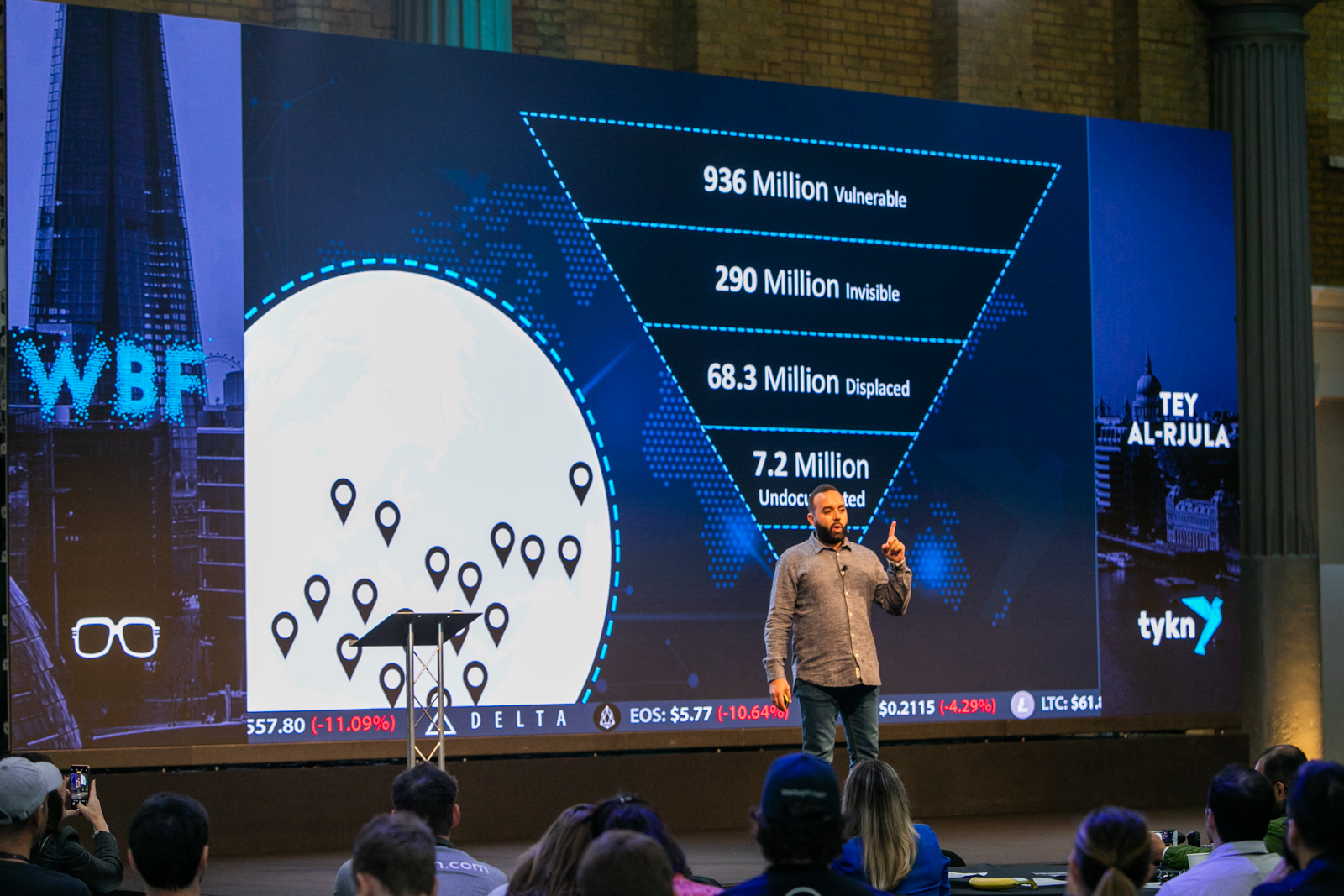 But in 2014, his work contract was suddenly put to an end. Tey, born to a Syrian father in Kuwait, found himself a prisoner of no land, unable to return to the UAE, Syria, or Lebanon, where he had grown up. "It was just the time when the war in Syria was escalating, so I had to apply for asylum as a Syrian citizen. This is when my life changed. I couldn't leave the country. All borders were closed for me; and once you ask for asylum, you have to go to a camp. The lawyer told me it would just be three days, but it ended up being two years." 
Inside the Ter Apel camp – one of the largest and most important refugee camps in the Netherlands, located in Groningen – life was radically different. 11,595 Syrian refugees had arrived to the Netherlands that year. A year later, the figure doubled and reached 27,710.
"Your life changes completely. You go from living in a house with your own bedroom, your bathroom, and your kitchen, to suddenly living with 2.000 people you don't know, sharing the bathroom, the showers, without a kitchen, and getting food distributed to you," he explains, his pain adamant.
"In the camp, you have 3 choices: you watch Arabic series the whole day, you watch the news, or you learn something new. So I decided to learn about Blockchain."
"I turned 30 in the camp. Turning 30 in a refugee camp, this is like: What the f***, man?! At 30 I dreamed of being a millionaire! I was crying on my birthday: 'what the heck is happening to my life?" I even thought of going back to Syria, because I was just sitting there with absolutely nothing to do. But I thought 'I will not be this guy,'" he says, anticipating the startup's inception. "There, the only thing you have is your laptop and your internet connection, so you have three choices: you watch Arabic series the whole day; you watch the news, or you learn something new. So, I decided to learn about Blockchain, the architectures of Ethereum and Bitcoin."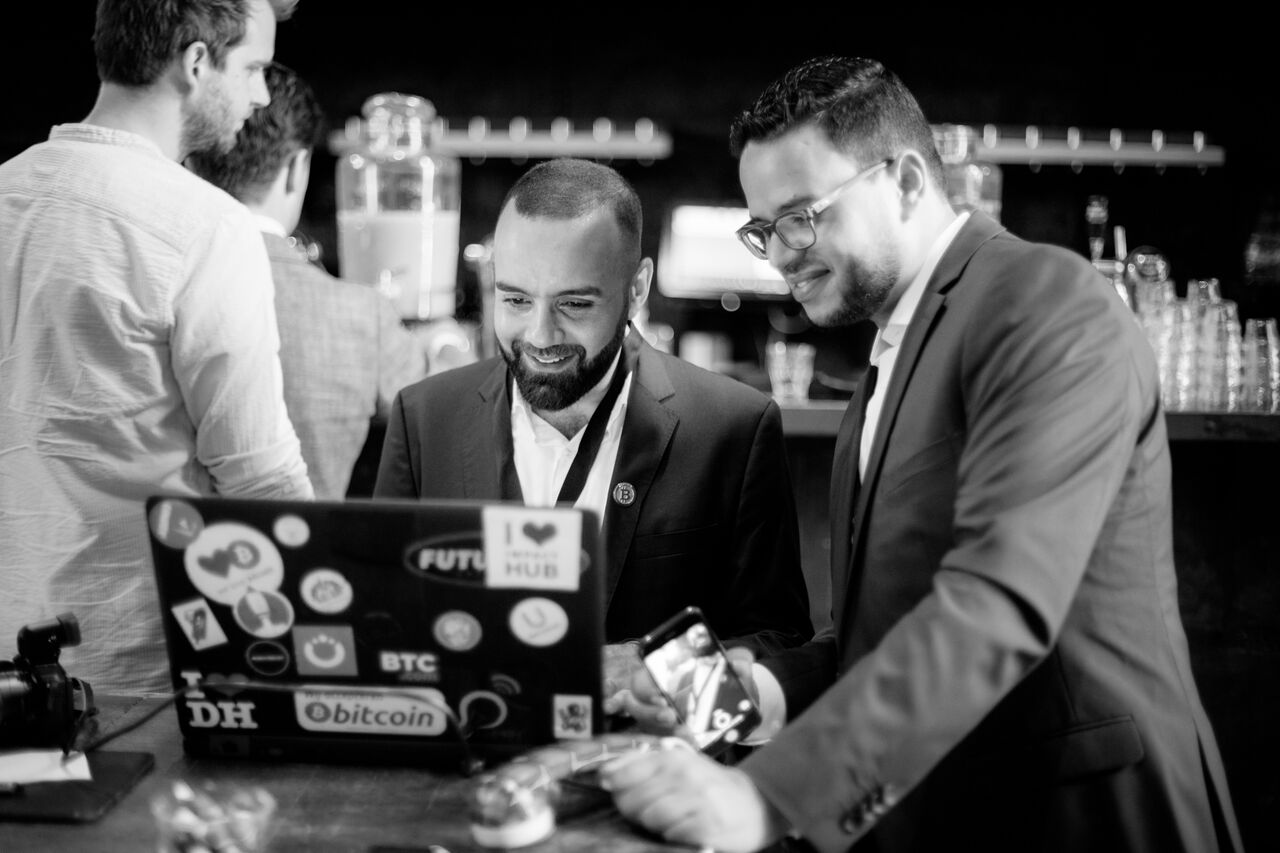 Soon, life in the refugee camp, albeit exasperating, became an eye-opening experience to the 32-year-old crypto-enthusiast. "I opened my eyes to a new reality. Refugees are losing their identity, their land titles, they're not even able to prove their academic certifications, or who they are and where they come from," he considers. "The asylum process is a paper-based one, so they need that." That realization hit close to home for Tey, whose birth certificate was burnt in Kuwait at the times of the Gulf War.
"Today, my Dutch driving licence reads, under place of birth: unknown. But I know where I was born; I was born in Kuwait. However, since the certificate is paper-based and records are in Kuwait, I cannot prove it. This was an extra motivation for me to start Tykn," he says.
Thus, in that small room which he shared with a heart surgeon, his startup Tykn was born. "I was a bitcoin miner in the Netherlands since 2011, so I had experience," says the entrepreneur, who soon became known amongst other refugees in the camp for his prowess in buying pizza or cigarettes for the whole community using his crypto-wallet. "When we started spreading knowledge about bitcoin and blockchain in the refugee camp, someone came and invited me to a Startup Weekend competition in Utrecht together. We won the first place."
During the event, he met his co-founder Khalid Maliki, a Moroccan-Dutch entrepreneur who connected with the same pain point and was moved by his cause: to help invisible children by providing them with a digital identity. Tykn gives stateless people a virtual ID, replacing paper-based documents with a digital imprint created through blockchain.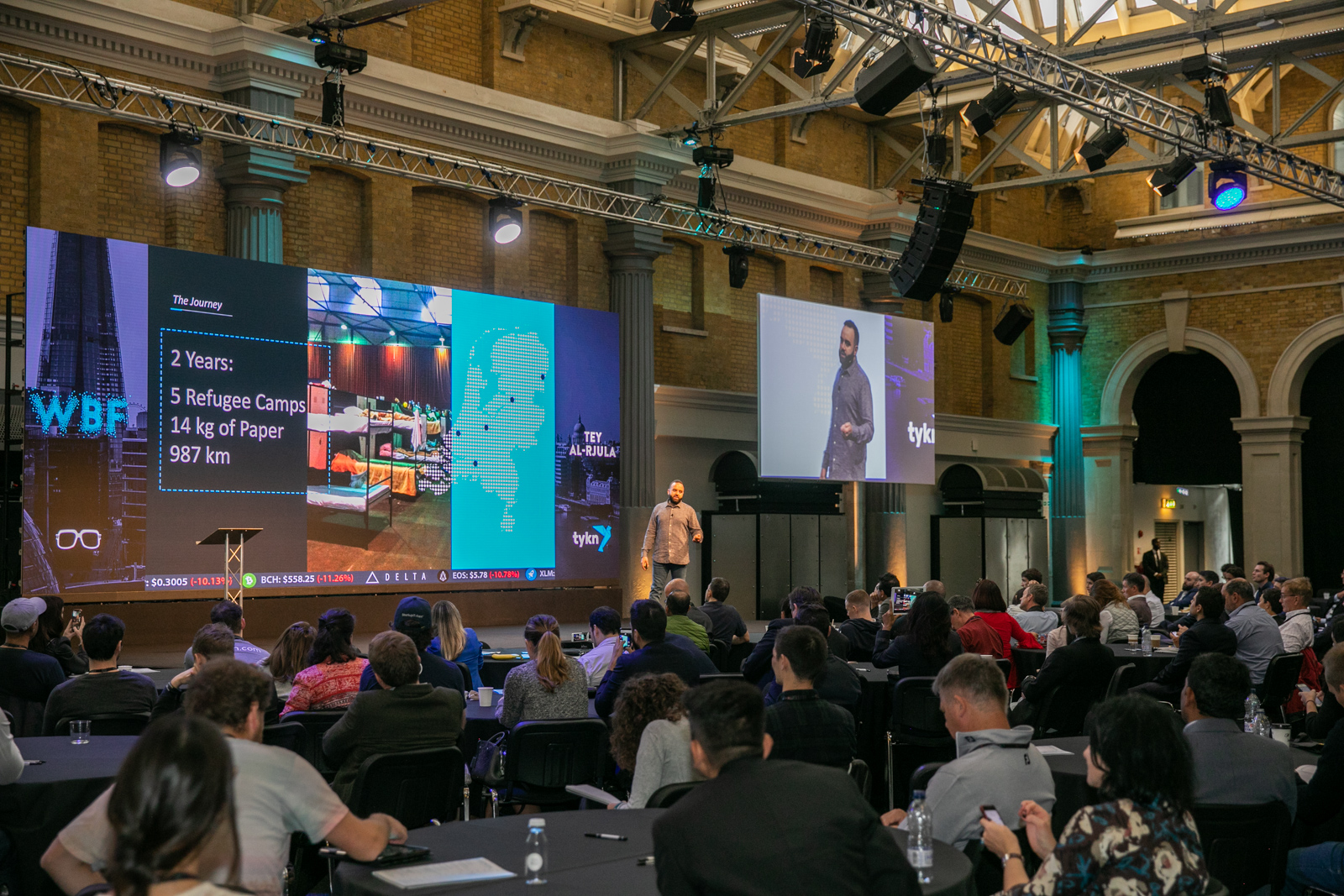 "We first trialled with bitcoin. Every single document in the blockchain has a hash, which is a fingerprint. We take these fingerprints out and we transfer them into a wallet, and we send a very small payment to the wallet, so that it's registered into the blockchain. But with bitcoin prices going up, it was no longer viable for us to leverage on that technology. As an alternative, we found Sovrin, a distributed ledger technology based on distributing hashes amongst different trusted people, organisations and companies," he explains. "What his means is that we can bring trusted organisations, like the Red Cross, and they can issue digital identities. In that network, there are also banks, governments, and entities – all of which monitor each other within the network."
The first solution Tykn set out to solve was inspired by problem that is a testament of the incommensurable talent that is locked in refugee camps. "I met nuclear scientists in the refugee camp; I met surgeons who can do a heart surgery blindfolded; piano composers, artists, video-makers, and producers; but they cannot prove their talent because they don't have certificates. They lost their work, they lost their art, they lost their history, and they cannot bring it back anymore. This is why I saw Blockchain as a very important tool," he says, poignantly.
"I met nuclear scientists in the refugee camp; I met surgeons who can do a heart surgery blindfolded; but they cannot prove their talent because they don't have certificates."
"But during the accelerator program, we pivoted into birth certificates. I was hearing the stories about children being kidnapped in refugee camps in Lebanon and sold to ISIS terrorists; they are sold for the sex slave industry, for organ trading – and half the refugees arriving to Europe are children who are unaccompanied," he explains. "Lots of children don't have identities. When the war is over in Syria, how are we going to reunite the families with their children? We don't have a way."
Tykn is now working with a major humanitarian organization to create a technology that helps them provide stateless people a way to financial inclusion. "We are helping them build an identity wallet; and this wallet has a cash-based feature inside. For example, in Malawi, they have a problem distributing cash. But the problem in distributing cash is not the cash itself, it is the identity behind it. So we can design an identity wallet for a stateless person to claim his identity with a card that has a QR code. Any trusted organization that scans this QR code and is allowed to read the information in it," he explains.
After Startup Weekend, Alrjula and Maliki entered the Rockstart accelerator, who contributed €15,000 in pre-seed funding. Later, they raised another €375.000 in the same pre-seed round, with one notable contributor being Alex van Leeuwen, founder of Buzzcapture (recently acquired by OBI4wan).
But investments don't always mean liquidity. "I had came out of the refugee camp literally broke. In those two years, I lost my house and my money. It was really hard for us to even go to the accelerator, because commuting cost €50. For four months, we would go to startup meetups just to eat pizza and go back home with a full stomach, even if the topic of the event was fashion. Still today, I have no idea how we made it," he recalls.
Tey admits that being a refugee, and acknowledging the power of that story, has helped him as an entrepreneur. "I get a lot of attention, interviews from the media, and on projects. I feel it is not fair for other refugees to call myself a refugee because I didn't feel their pain, and I didn't go through their journey," he reflects. "I lost everything here, and it hurts me when I have to pass by my old house and remember playing with my dog. But my memories are still alive here, while their memories are buried in Syria."
Main photo: Courtesy of Tey Alrjula