We speak to Souad Mohamed, the Syrian power woman who transformed personal trauma into a tale of leadership.
by Yasmeen Smadi and Lenah Hafez
Souad strolls around the Greek Campus, her brown backpack on, filming every detail of the all-female conference She Can, that is taking over the largest tech valley in the Egyptian capital. Nothing in her looks, her gentle smile, and her entrepreneurial spark denote the hardships this entrepreneur faced since 2014, when conflict forced her to leave her home country of Syria.
We're sitting on the stairs of the tech hub, located at the heart of Cairo, as she begins to tell her story; on the other side of the campus, which originally was home to the American University in Cairo, some of the country's most successful businesswomen are speaking on stage.
"Back in Syria, it wasn't normal for a woman to have her own business or even think about it."
Souad is a mother of four and a certified human development trainer who has grown a portfolio across universities and institutions for youth and women across the Middle East, from Jordan to Turkey. She hadn't always had the ambition to be a famous trainer or a well known speaker; there was a time when the only dream she had was to get married and have kids. But things changed.
"Back in Syria, it wasn't normal for a woman to have her own business or even think about it," she comments. "If women wanted to work they could be teachers or maybe employees in an organization. But war has changed women; it forced us to work on ourselves and develop our skills in order to have our own business and support our families, as men cannot support them on their own. I see it as a positive outcome or consequence of war, to get out of the cocoon that we were living in," Souad says, looking back.
Tell us a little bit about your decision to leave your country. When did you decide to come to Egypt? 
I fled to Egypt in 2012 running away from the airstrikes on Latakia in Syria. Being half Egyptian and half Syrian, Egypt was the best option for my family as it would be easier for my children and my husband to get citizenships. Also, luckily the flights were not suspended yet and the airport was still open at that time. The situation in Syria was very difficult; we were living in fear and always seeking shelter from the bullets and bombs. We were under a lot of emotional and psychological stress.
What were you doing in Syria?
I was a human development trainer giving courses in personal development, leadership, creative thinking, speed reading. I studied computer science which has nothing to do with what I'm doing right now.
My passion for training started when I attended an NLP course in my hometown and learned things that had a very positive impact on me. It was a very difficult stage in my marriage, and it taught me how to become more positive in my thinking, to accept my husband as he was and to communicate in a better way. Then I decided to be a trainer in order to spread knowledge and allow people to experience the same positive change that I experienced. So I began my journey of becoming a certified trainer by attending a 2 weeks course in Libya in 2006. I've been giving courses for 11 years now. 
How did the idea for the startup come about? 
When I fled to Egypt the new reality forced me to start my own business. I was invited to several universities to attend and speak in conferences, and when I found that the students were attentive and interested in what I was saying, I decided to start working again. So I registered a company in Egypt in order to be able to give courses and issue certificates. I realized that people who lived the war in Syria or witnessed the Egyptian revolution needed someone to talk to them about positive thinking and to encourage them. So I wanted to be that person and help youth build a better future.
"I realized that people who lived the war in Syria or witnessed the Egyptian revolution needed someone to talk to them about positive thinking and to encourage them."
What was the arrival to Egypt like?
We had a very difficult time in the beginning, especially my children because of what they witnessed in Syria and the suffering they lived through. We were unable to communicate with people, it took us a year to get out of the shock we were in and to understand and accept the new reality.  I decided to enrol my children in Egyptian schools so that they can integrate better in society.
What did it take to create the company?
It required a lot of guts to take this step; especially with 4 kids and the fact that I am in a foreign country with very few people I know. The major challenge I faced was my husband; he was completely against the idea of me working in the beginning. But one day I was invited to participate and moderate an important event that hosted trainers from all over the Middle East, I talked to my husband about it and told him that if he lets me take this job, I promise it will be the last. So he agreed and attended the event – it was the first time that he saw me in action. I made sure to give my all for this event knowing that this was my last opportunity.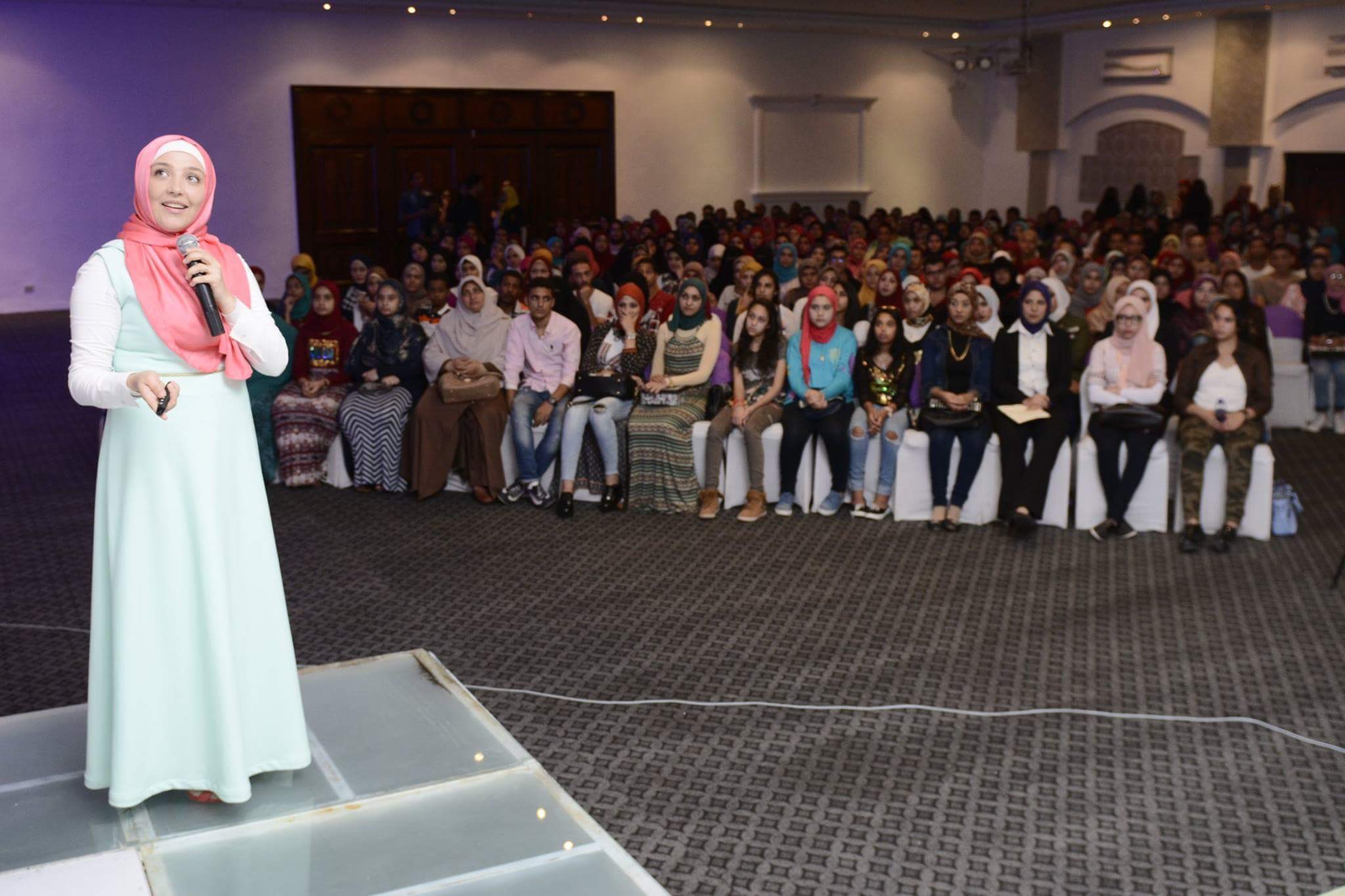 After the event was over, my husband was amazed with my charisma and performance on stage, and told me "You were born to be a trainer and to be on stage; I won't be a man if I don't help you become the number one trainer". Then he started to manage my appointments and training courses until work started to decline. This is when he decided to move to Libya for work.  While my husband was in Libya I wasn't allowed to work so I was just taking care of my kids.
After a while my husband came back as he couldn't bear the living conditions in Libya; it wasn't safe back then. He decided to go on one of the migration boat trips to Europe with the plan that we join him when he gets there. But three days later, the boat sank and he went missing. They never found his body.
"Here I was, in front of two choices; either give up and just be a widow or be positive and survive this challenging time."
I was left with nothing, I was devastated and I felt alone. It was the most difficult time in my life. Here I was, in front of two choices; either give up and just be a widow or be positive and survive this challenging time. So, I decided to go with the second choice, pull myself together, be strong and move on. I started working again focusing on the Syrian community in Egypt, mainly women who lost their husbands, children and university students. I was giving courses in leadership, teamwork, creativity and effective communication. I'm currently also regular guest on MBC TV talking about personal development.
What kept you going in the difficult moments?
Faith and the support of my family and friends. Also, my trainees used to support me through making promotional videos for me. I believe that when you show people how important they are to you, they give you positive energy and unconditional support. There were times that I wanted to give up; I cry almost every day, I'm not superwoman, but being told that I'm adding to people's lives and contributing positively, this restores my energy and willingness to carry on.
Were you aware of the startup world before coming here?  
The first time I ever learned about the startup world was when I attended 'Startup Syria'; it was the first time that someone thinks about Syrian refugees and how to support them in starting their own business. I attended the event to learn more about the startup world and the basics of starting and growing a business.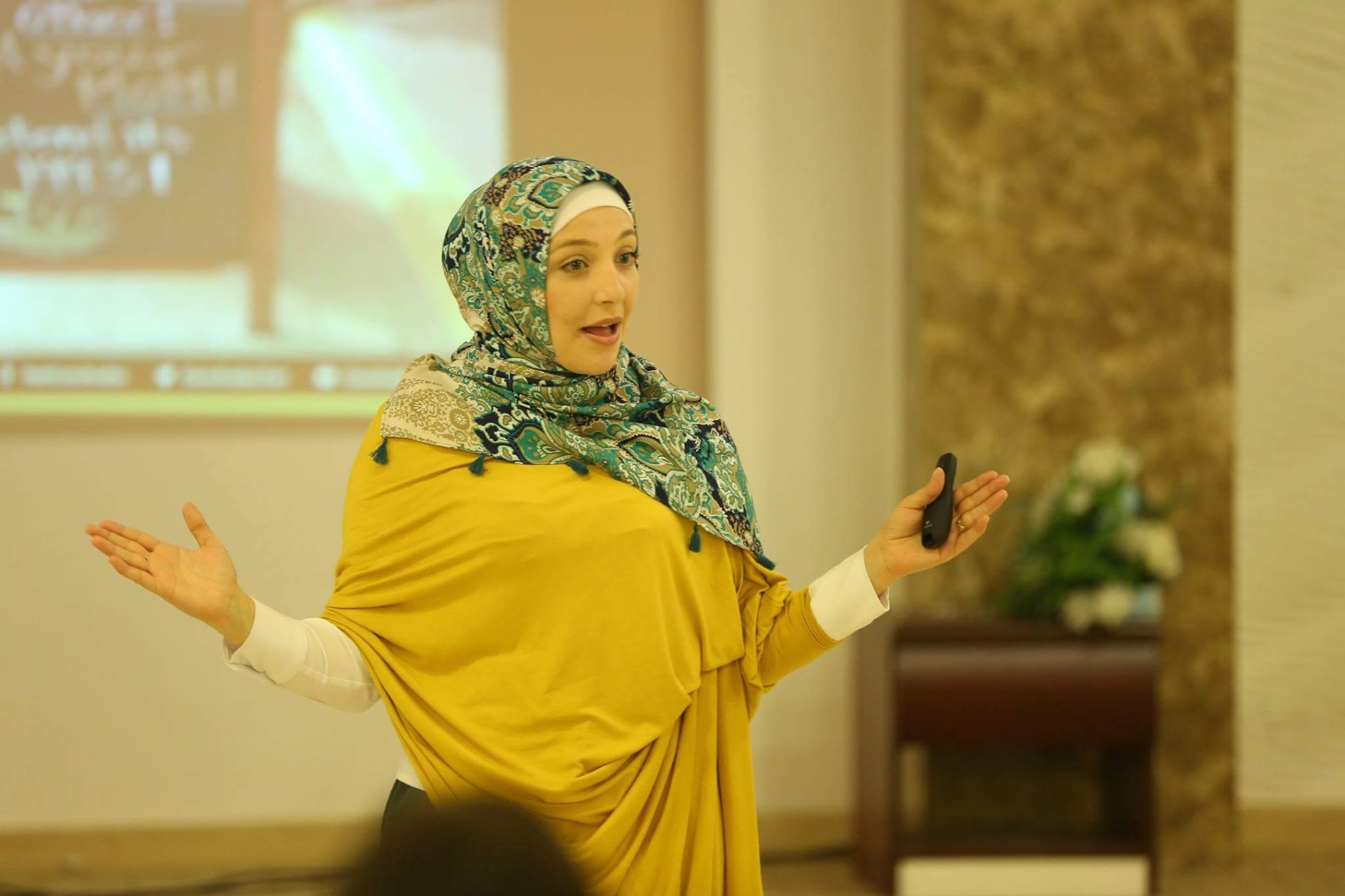 What are your plans now?

I want to work more on branding my name and reaching more people. I have certificates and knowledge but I don't have the outreach. I would love to do empowerment and development programs for women all over the world, and to help them become more courageous and self confident. I would also love to have a TV show to support women. Finally, I want to show the world that wearing the veil doesn't hold women back or stop them from being leaders in their domains or being successful, I want to be an example.
"I want to do empowerment programs for women all over the world, to help them become more courageous and self confident."
What would you advice another person who migrated from their country and wants to create a business? 
To start by developing their skills, joining training courses and finding their strengths and weaknesses. Also seek advice from experts and consultants that can help. Work on yourself, read a lot of books and watch videos. Believe in yourself and your abilities and have the drive and willingness to succeed.
Finally, I believe that home is within us regardless of where we live, we carry it in our heart wherever we go. We can be successful and represent our country wherever we are. Just like many people became very successful and influential outside their countries, anyone who has the will can also do the same.
Video and photography: Lenah Hafez. 
©Startups Without Borders
Warning
: mysqli_query(): (HY000/1021): Disk full (/tmp/#sql-temptable-9558-2f37-15e8.MAI); waiting for someone to free some space... (errno: 28 "No space left on device") in
/home/startupswb/public_html/wp-includes/wp-db.php
on line
2024