Syrian entrepreneur Raafat Hantouch turned a dramatic childhood experience into an innovative tech solution that is now making waves in Germany.
By Valentina Primo and Maysaa Ajjan
That day, the Damascene market bustled with busy consumers hustling their way to buy Syrian specialties. But for one mother, the experience became a painful memory when her child got lost amongst the throng.
"It took them two hours to find me, and I want to turn this memory into something good," says Raafat Hantoush years later, sitting in a busy co-working space in Berlin. The entrepreneur, born in Syria, arrived to Germany in 2016, after concluding his Masters studies in Portugal.
His startup, Bote, offers parents wearable devices for parents to track their children – through a shoe insole. "Bote is a smart shoe insole for kids to help parents have peace of mind about their safety," Hantoush explains. "There's a hardware chip that contains the latest low-frequency technology, so parents using their smartphones can see a notification whenever the kids go far away."
Hantoush, who left his home country of Syria in 2014 to do a Masters in Portugal, began working on Bote in 2017, while he was working as a senior data scientist at a prestigious company in Munich.
"There's a hardware chip that contains the latest low-frequency technology, so parents using their smartphones can see a notification whenever the kids go far away."
"I have a background in computer science and I'm working as data scientist and I am passionate about IoT, and I work with Raspberry Pi, and I was planning to do something soon, we thought about making a monitoring machine for washing machines. But I wanted to focus on the right product, and then I remembered my experience as a child," he recalls. 
Raafat teamed up with former colleague Felix Salomon and bootstrapped the startup, which is now testing the chips they have manufactured in Germany. "We still have a lot of market validation to do as well as testing the prototype on parents and children," the entrepreneur says.
Their innovative insoles solve a problem that affects millions of children every year. According to a study by the Missing Children Europe foundation, a child goes missing in Europe every two minutes; and in the US, nearly 800,000 children are reported missing annually.
"This chip inside the insole sends a bluetooth notification, and parents can determine the geo-fencing range at 15-20 or up to 100 meters and receive an alert whenever kids go out of this range," Hantoush explains, Although the product is not yet in the market, the insole is estimated at a price of $49.99.
A self-proclaimed "entrepreneur by nature"
"I'm an entrepreneur by nature," he says, confidently. And facts speak for themselves: Having joined the first electronic stock exchange in Syria, he launched Agora, a company that built systems for stock exchange companies, brokerage firms, telecommunication companies (including Syriatel) and banks, in 2011. His company won several prizes, including the Fikra incubator prize twice, as well as being named one of the Top 3 ICT product in the MENA in 2012.
Hantosh and Salomon got recently accepted into the SINGA business lab, one of the largest incubators for migrant entrepreneurs in Europe, having won the Jusoor Entrepreneurship Competition this year. "I'm very lucky to have high profile mentors who can share their expertise with me," Hantoush says, "and I'm hopeful for the future."
"When you hear the world Syrian you automatically consider him as a refugee; and this is not always true. I'm not a refugee."
However, he insists he did not arrive to Europe as a refugee. "When you hear the world Syrian you automatically consider him as a refugee; and this is not always true. I'm not a refugee," he says. "I went through the normal application process for students; I didn't apply for a special scholarship for refugees or to any scholarship – it was self funded for my masters. I highly appreciate the things being done to help refugees but I don't like people assuming," he says.
Hantoush's journey to Germany began in 2014, when he travelled to Lisbon to pursue a Masters degree. In 2016, he moved on to Germany to do his Master thesis. "This is where I got my blue card and then a job contract in Germany. I had the blue card, which it's a very good resident status but doesn't allow me to be self-employed," he explains, pointing out one of the biggest obstacles to starting up.
The next steps
"We're in talks with an immigration lawyer, as well as to issue the patent," he says, explaining he is applying for a permanent residence. Aside from legal registration, one of the main challenges the entrepreneurs face is quality certifications. "Quality certification in Germany is a big problem. If I started a company in another country it would be much faster but here we care about the quality. In the Middle east everything would have been faster, no certification to complicated things," he says.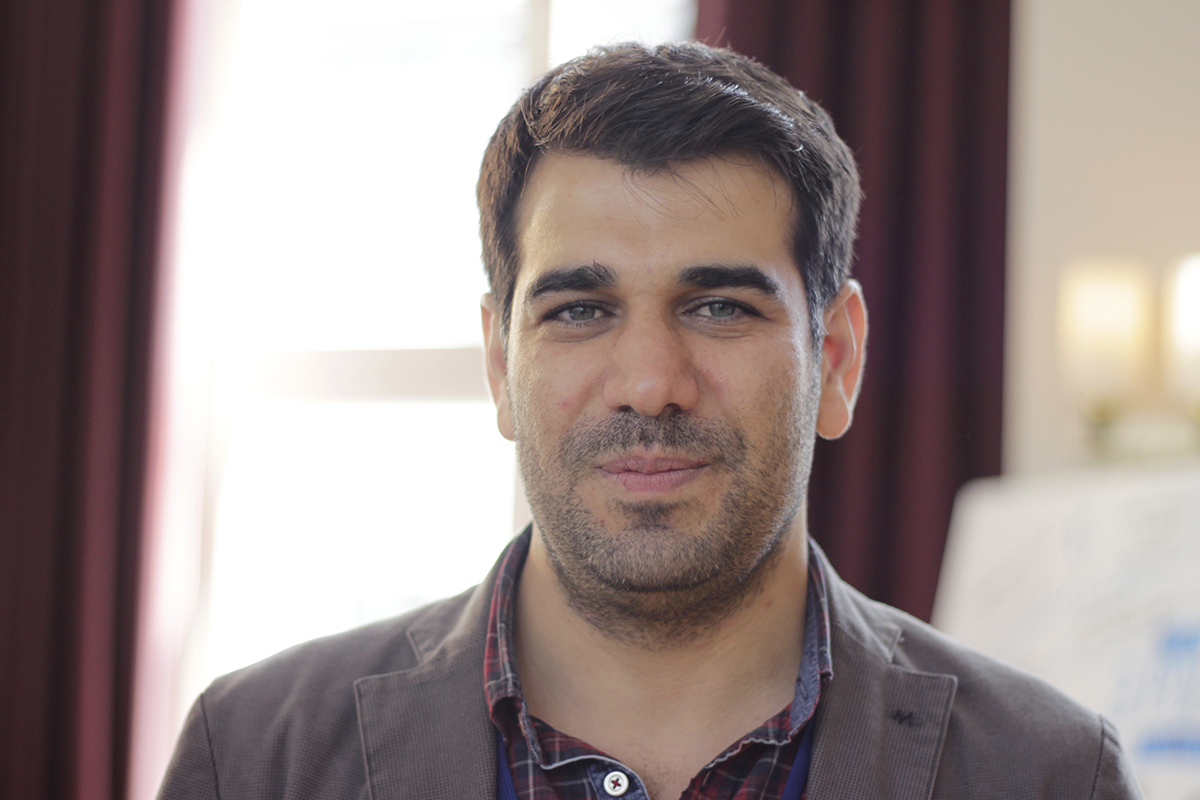 Although they are not fundraising yet, the entrepreneurs are working on several partnerships to get the product off the ground. "We've received a lot of positive feedback from companies who offered partnerships, but we're still at the very early stage of the startup cycle."
However, it looks like a bright start for the Syrian entrepreneur, as he has sealed a verbal agreement with one of the largest companies in Germany that provides location-based services to malls and similar places, and they are in talks with local kindergartens interested in the product.
"I think in the Middle East there's a huge need for Bote, even more than in Europe. I visited Beirut and got very positive feedback, as there is more danger in crowded malls and markets, which are not so common in Europe," Hantoush concludes.
Photography by Valentina Primo
©Startups Without Borders.
Warning
: mysqli_query(): (HY000/1021): Disk full (/tmp/#sql-temptable-9558-3071-7ca.MAI); waiting for someone to free some space... (errno: 28 "No space left on device") in
/home/startupswb/public_html/wp-includes/wp-db.php
on line
2024