Having arrived to Italy at 14, Mamadou Lamine took on a big dream: He set off to build Italy's first migrant VC fund, and raised €90.000 in just 5 months. Meet the entrepreneur behind Mama Venture.
By Valentina Primo
We're sitting on a bench in a surreal setting; facing us, the Mediterranean Sea rises, dotted by a lineup of blue sailboats anchored to a colourful graffiti-filled wall. We're at Ventotenne, an island whose history is intimately intertwined with the crafting of the European dream; an island that once was a meeting point for European leaders, and today hosts a festival as ambitious and as noble: the Festival of European and Mediterranean Solidarity.
Organized by Somali entrepreneur Abdullahi Ahmed, the festival gathered migrant youth, non-profit organizations, journalists, writers and artists are exchanging thoughts and ideas to contribute to a new society. One of them is Mamadou Lamine, the young pioneer setting off to invest in migrant talent though his startup Mama Venture, Italy's first VC for migrant entrepreneurs.
"I was hungry to create; I was determined to do something for my community, to change the way things were."
Born in one of the poorest areas in Senegal, Yeumbeul, Mamadou moved to Italy when he was 14 years old, joining his parents who had earlier migrated to Reggio Emilia. "I'd never wanted to come to Italy," he says, as we start the interview. "We were very poor, but that was my world," he asserts. "It was not until I had left that I understood how different the world was. I was lucky to move to a small town, Faenza, and there were not many migrants back them. I started studying right away."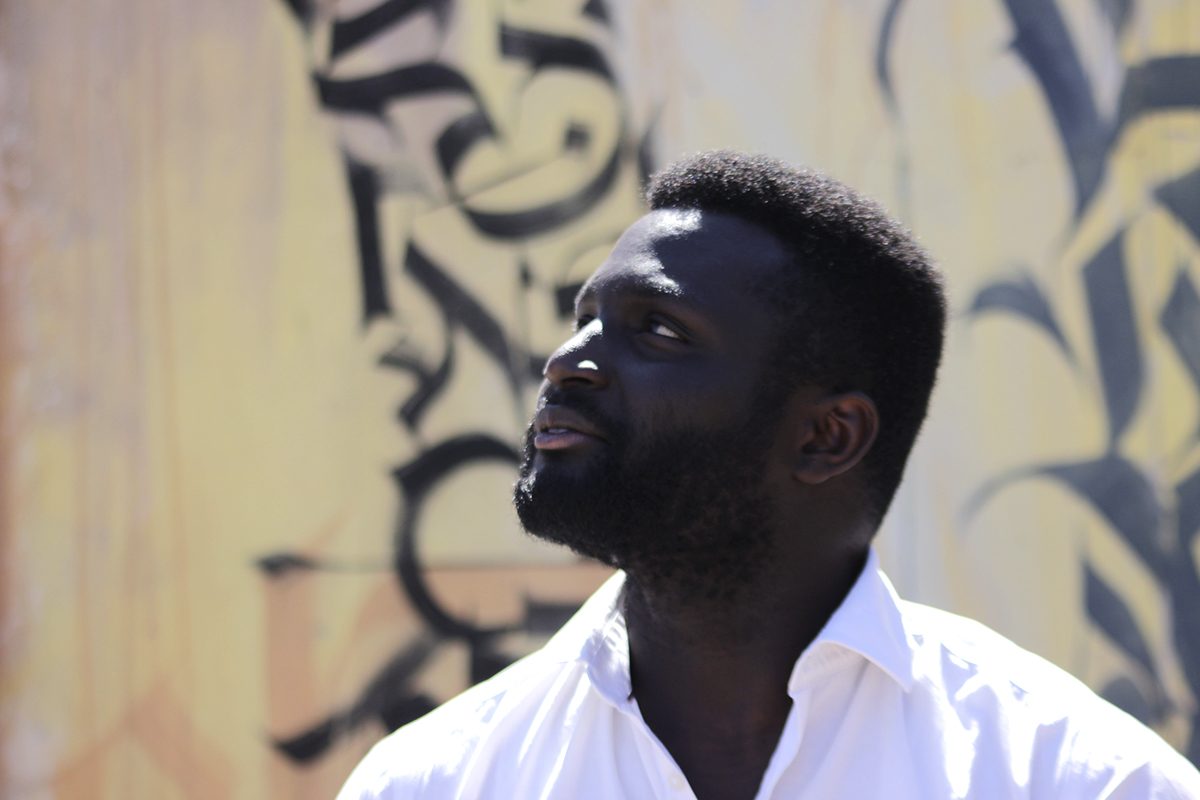 What was the first encounter with Italy like?
I wasn't happy to come. But my parents were here and they wanted me to move with them. As soon as I arrived, I was faced with a lot of surprises. In my country, not everyone is lucky enough to go to school. But those who do, do it seriously. Nobody misses their homework; that's not a thing. Here, instead, I was shocked seeing my classmates talk while the teacher was explaining, or throwing paper planes at each other. I would ask myself: 'Where are we? How is it possible that these people, who take studying for granted, have more possibilities than us, who study really hard?'
I wasn't happy for a while. But slowly, I began making friends even amongst the teachers. I then moved on to university, where I studied business administration. I was hungry to create; I was determined to do something for my community, to change the way things were. I've always thought that knowledge can take you very far, so I worked and studied really hard.
In the first year of university, I created the Senegalese Association to help people with paperwork in order to get jobs. It was 2011, and the experience with associationism taught me a great deal. But, coming from business and having studied micro-finance, I wanted to work in microcredit. And it was not an open world for migrants; not because of discrimination or racism. They just look at the business, and they don't invest in what they don't know. So I wanted to attempt to make them understand the migrants' projects.
"When a migrant leaves home, he's guided by the belief that change is possible. There's already the desire to create a new venture."
I got in touch with other colleagues from university, and they would all share the same story; when a migrant leaves home, he's guided by the belief that change is possible. There's already the desire to create a new venture. From the moment you leave your home, from the moment you face all these difficulties, that's already a venture. And there is an investment behind it, because your family has selected you, invested their assets to give you this opportunity.
So how did Mama Ventures take shape?
We set off with this first idea of offering microcredit. We interviewed 2,500 migrants to validate it, utilising a big network I had created, because I had also created the Association of Senegalese diaspora in 2014.
It's a matter of strategy, of having a vision. You know? I've always had a roadmap for my life; I've always known that I would have finished my studies by the time I was 25, and I would have started my business by 30. Most of my peers are just looking for jobs and sending many to their countries. But I want to create. So the moment arrived to create Mama Ventures in 2017.
Most financial institutions wouldn't give us credit, so I had the idea to get financing from the community itself. Thanks to my experience in associationism, I was able to understand what they need and how. So I went to them, from city to city, across 20 cities in Emilia Romagna, including religious gatherings. I would explain my idea to them, and my financing plan. Usually, Senegalese people are very good at helping each other, but not when doing business. Since I knew this, I focused on gaining trust from them first. "Look, you know who I am, you know that I life in the same places, and face the same difficulties as the rest of the community." Then, I explained them that I wanted to create an investment fund to invest in migrant talents, those which had solutions in mind for the community's problem. But first, I needed to have the resources to find them.
In five months, I was able to raise € 90.000 equity-fee, from over 2,000 people; part of the strength is that I gathered a team that mixes different talents. There is a Moldovan woman, who speaks Russian, a Camerunese man, so these different nationalities are strategic for us.
What was your first step?
We took part of these funds to build trust between the community and its talents. In Faenza, more than 60 percent work in agriculture. The problem is that, if you work 100 days, the contracts offered only stipulates 20 days of work. They still pay you your 100 days, but when you need to renew your documents, you cannot prove you have income, and end up as an illegal migrant. It's a vicious circle, because illegal migrants cannot work, and if they cannot work, they cannot regulate their legal status. So we tried to give them tools so that they themselves become employers. We bought a piece of land, involved experts in agriculture, and started a financial training so that they could manage the fields.
"Mama Ventures brings out migrants' pride, because they are all tired of being portrayed as job stealers and criminals."
After a while, banks and foundations started approaching us to finance enterprise creation. It would have been unthinkable for us before. Mama Ventures brings out migrants' pride, because they are all tired of being portrayed as job stealers and criminals. I'm not saying Mama Ventures is the solution; but it's a beginning.
We're mapping the problems across different cities, and launch a call for entrepreneurs to suggest ideas for these macro-problems. If we don't manage to solve our problems within the community, it's hard to integrate. If migrants are creating enterprises, they contribute to the economy and create wealth.
Tell us about the projects you received so far.
We didn't expect a great deal in the first calls. We adopted a particular strategy; before going to a  particular city, we launched the call online and offline, through events with influencers from these cities. These influencers, mostly religious leaders, know the community well, and can single out those with ideas and will to create ventures. Within African communities, once you are able to convince a religious leader (Muslim or Christian), you know you can reach the audience. Then, once the projects are submitted, the audience can vote for the winning projects on the website.
What's your ultimate goal?
It's too big (he laughs). It's utopic, perhaps; but I really want to change Africa. I want to turn Africa into an industrialised country. Whether I go back or not, I am confident I will be able to make it happen.
Photos: Valentina Primo and Marius Nadas.
©Startups Without Borders