From American best-selling coach Rhett Power to the leaders of some of Egypt's most daring tech startups, this week's quarantine sessions will be filled with tangible tips and advice.
BY SWB TEAM
This month, we teamed up with The Cairo Angels to feature inspiring investors, entrepreneurs, and mentors, to talk about a wild series of topics. Gear up to discuss business development, growth hacking, and e-commerce with some of the most audacious entrepreneurs and hackers in Egypt and the Middle East. Plus, tuning in from the USA, American entrepreneur, award-winning coach, and author Rhett Power will be discussing how to battle Covid19 as a leader and keep your business afloat. Here's the full breakdown.
Monday: 5 Key steps in Business Development, with Nadeem Barakat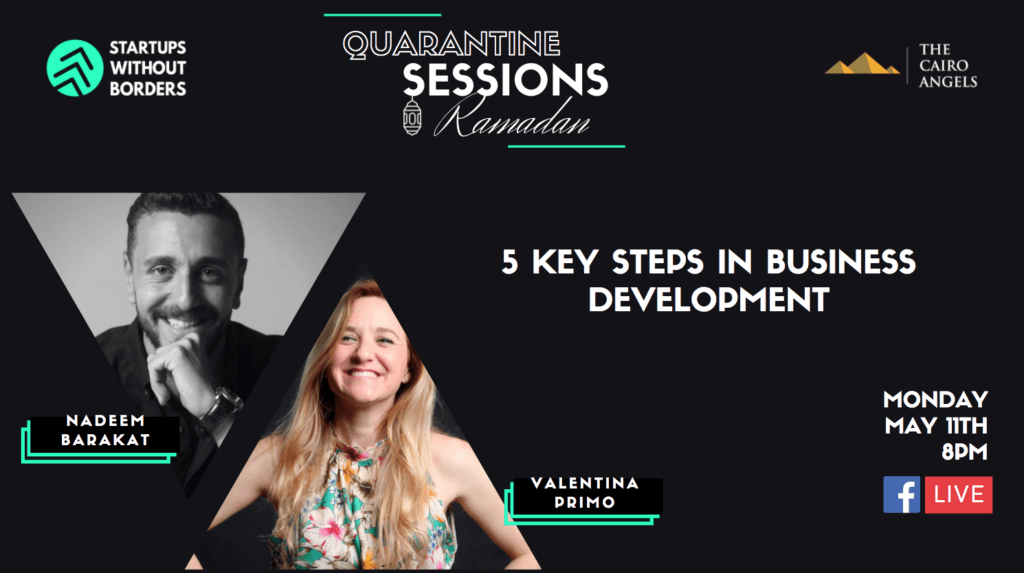 Where: Facebook Live   When: Monday, May 11th | 8 PM in Cairo
The startups and entrepreneurs development expert Nadeem Barakat will join us in this session to share his 8+ years of experience in sales, project development, business development, sales management, and high-level executive functions. 
Besides his online courses at the number one E-Learning Platform in Middle East Almentor.net, Nadeem is a professional trainer at delivering entrepreneurship and business workshops and consultancy in various places such as the American Embassy in Cairo, Ain Shams University, and Future university .with more than 700+ training hours and over 5000 trainees.
Currently being the head of business development and strategic partnerships at Homzmart the leading company in the E-commerce field of Furniture industry in MENA, Nadeem Barakat's session is not one to be missed this week!
Check out the event here
Register to all the sessions here
Tuesday: Adding e-commerce to your startup, with Hussein Mohieldeen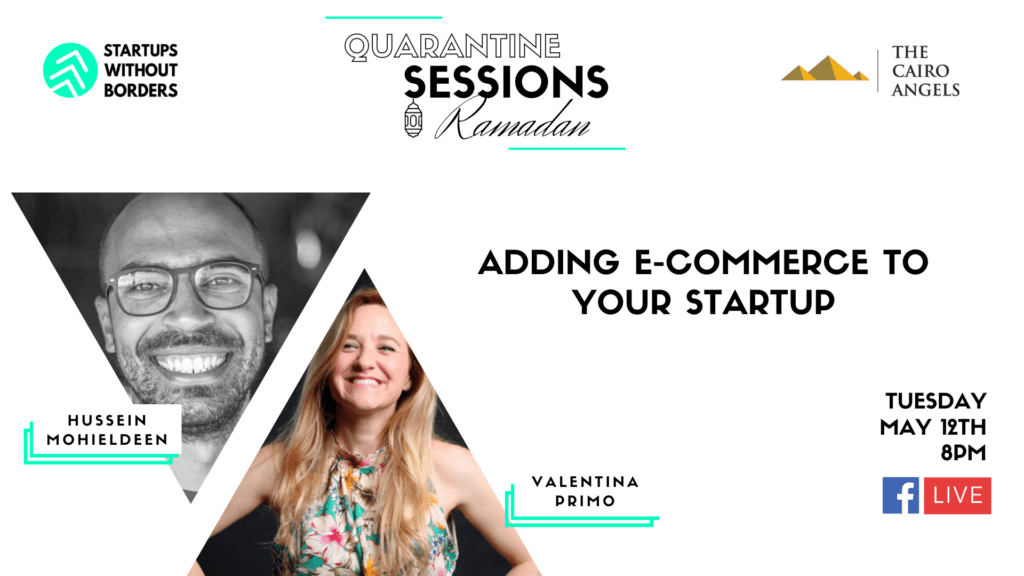 Where: Facebook Live When: Tuesday, May 12th | 8 PM in Cairo
The tech entrepreneur and the CEO of Robusta, a tech agency based in Egypt and Germany, Hussien Mohleldeen, is joining us in this session to talk about the profit driver of your business, E-commerce.
Hussein has led Robusta's team to launch the E-Commerce Summit, an annual event representing a grass-roots movement to stir up the conversation about the potential of selling online in the MENA region. 
Before founding robusta, Hussein has been working at Quick-Wins as a management and strategy consultant for several family businesses and regional conglomerates in the GCC throughout transformation and turnaround exercises across several sectors including technology, retail, and distribution.

Check out the event here
Register to all the sessions here
Wednesday: Product Growth & Management, with Mahmoud Ghoz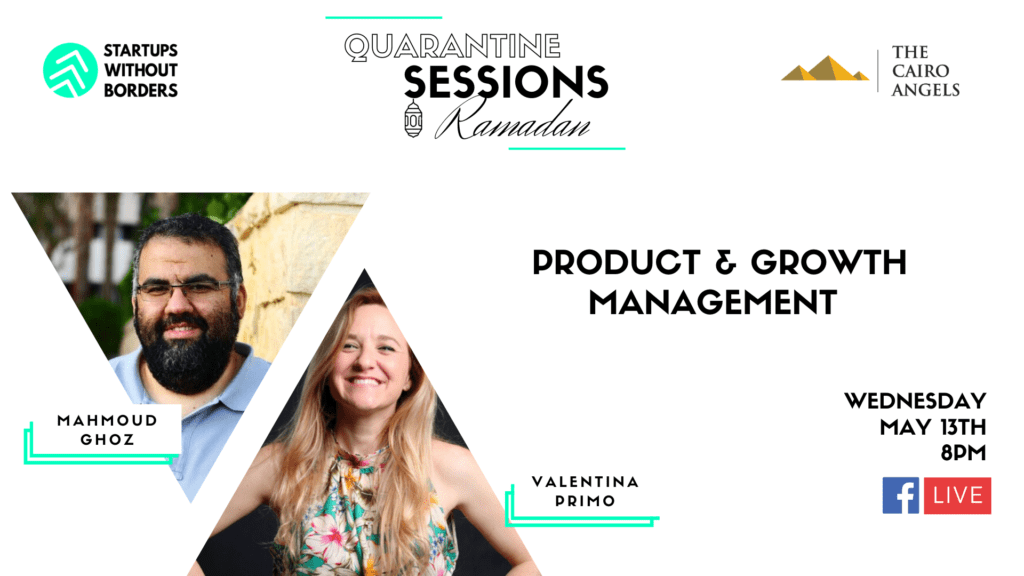 Where: Facebook Live When: Wednesday, May 13th | 8 PM in Cairo
In this special session, our guest Mahmoud Ghoz will pour in a sum of 17 years of experience coaching and delivering complex IT, web, and mobile projects.
Ghoz has been practicing Lean and agile techniques for more than 10 years to transform teams and help them scale the right way in different fast-growing local and multinational companies including DXC, ITWorx, OMS, Parent ApS, and Swvl.
If you want your questions about successful product growth and management, tune in to this workshop, with the self-motivated agile practitioner.
Check out the event here
Register to all the sessions here
Thursday: 7 Strategies for Growth Hacking, with Yasmine Helmy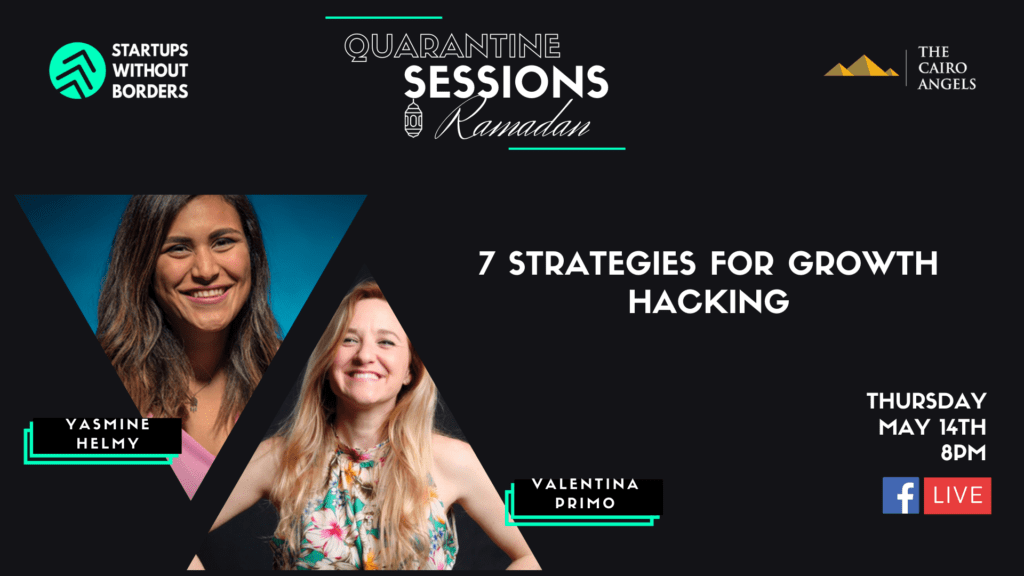 Where: Facebook Live  When: Thursday, May 14th | 8 PM in Cairo
In this session, experienced growth marketer Yasmine Helmy will provide us with 7 effective strategies for Growth Hacking. With five years of experience in Growth Marketing, Software as a Service (SaaS), Demand Generation, and Customer Acquisition under her belt, Yasmine, as a Growth Marketing Lead at Instabug, is on a mission to grow Instabug into a unicorn with the Instabug squad.  
Yasmine is also consulting multiple startups on SaaS growth. Traveling the world is on her radar and she's contemplating the lifestyle of digital nomads. Till then, she's leading a double life as a tech enthusiast and social entrepreneurship advocate. Her great passion for SaaS and Tech startups will drive you to go to the next level with your business. 
Check out the event here
Register to all the sessions here
Friday: Keeping your business afloat: Leadership in hard times, with Rhett Power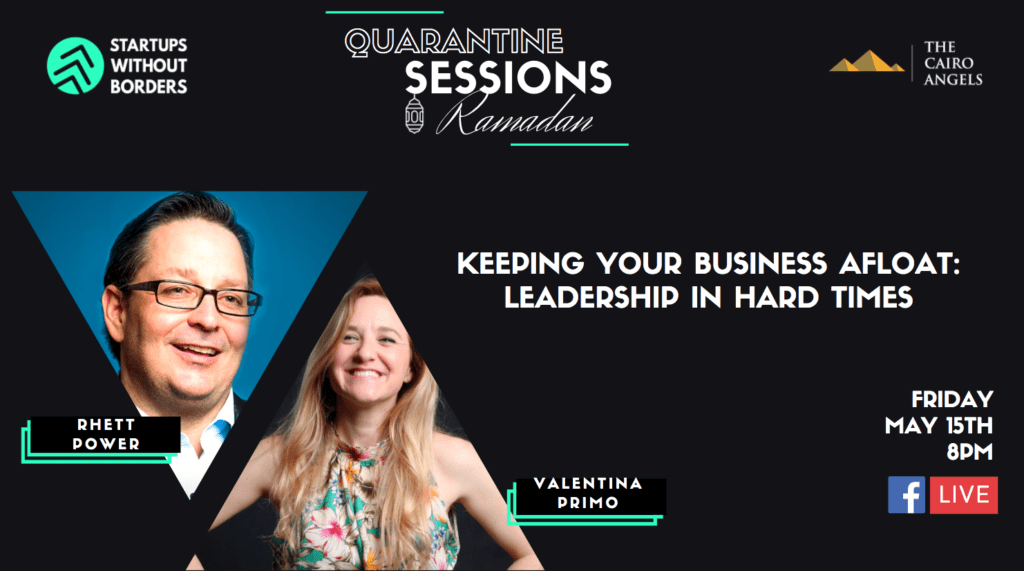 Where: Facebook Live  When: Friday, May 15th | 8 PM in Cairo
Voted 2018 Best Small Business Coach in America, Rhett power travels the globe speaking about entrepreneurship, and management alongside the likes of Gates Foundation and President Barack Obama. 
Power has co-founded Wild Creations in 2007 and quickly built the startup toy company into one of Inc. Magazine's 500 Fastest-Growing US Companies. 
He is the co-author of the best-selling book One Million Frogs, and author of best-selling book THE ENTREPRENEUR'S BOOK OF ACTIONS: Essential Daily Exercises and Habits for Becoming Wealthier, Smarter, and More Successful. 
Check out the event here
Register to all the sessions here, and watch all the previous episodes on our Youtube Channel here.