The entrepreneur is launching his book at the Quarantine Sessions on World Refugee Day. Titled 'The Invisible Son,' the book tells the true story of a hero's journey in 9 chapters, from Tey ElRjula losing to reclaiming his identity. It can be pre-ordered here.
By SWB Team
On World Refugee Day 2020, blockchain entrepreneur Tey ElRjula is launching his book "The Invisible Son," a story of passion, resilience and boundless imagination. The entrepreneur, born in Kuwait to Syrian parents, narrates his journey through Lebanon, Dubai, Amsterdam, and 5 refugee camps as he became the "invisible man" who altered his mess to create a global message.
It was within the walls of the Ter Apel refugee camp where Tey came up with the idea to launch his blockchain startup, which raised over €1.2 million in a mission to to help the world's "Invisible Children."
"It was in this small room that I started working on it. I didn't have an identity, I didn't have a bank account; I was literally invisible, nobody knew about me. Not even my family knew that I was  applying for asylum, because I didn't want them to fear for my life," he said in an interview with Startups Without Borders.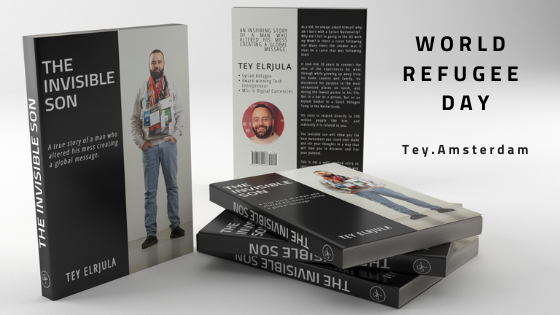 What initially started as an idea then turned into a startup that allows public and private institutions to issue and verify digital identity credentials, addressing the 1.2 billion people who have never had an identifying document or who lost it to wars or disasters.
But Tey's book is much more than a startup success story: it is the story of a man who was able to transform a traumatic past and a challenging present into an opportunity to serve others – and change the world.
The book sheds the light on the aspect of identity from a cultural perspective, how he was raised in Lebanon and how he lived in the Netherlands. It has some tips and tricks for people who have great products but are afraid of the stage, as he used to suffer from stage fright and anxiety. Now, he never misses a year with his 4 TEDx talks in a row. 
This Saturday, as we mark World Refugee Day, we are  hosting a Quarantine Session special edition, as we host a live interview with Tey to officially launch the book.
Watch the live interview here.

Here's a sneak peek of the book summary: 
As a kid he always asked himself why am I born with a Syrian Nationality?
Why did I fail in going to the US with my Mom? Is there a curse following me?
Many times the answer was it must be a curse that was following him!
It took him 30 years to connect the dots of the experiences he went through while growing up away from his home country and family. 
He discovered his purpose in the most unexpected places on earth, and during the lowest points in his life. Not in a bar or a prison, but as an Asylum Seeker in a Dutch Refugee Camp in the Netherlands. 
His story is related directly to 290 million people like him, and indirectly it is related to you.
The invisible son will show you the best investment you could ever make and stir your thoughts in a way that will lead you to discover and live your purpose.
This is not a well- crafted story to impress; it is a story told as it was lived to inspire.
Pre-order Tey's book "The Invisible Son," here.