Three Continents, one summit. Joining from around the world, over 75 speakers will share key data and first-person perspectives as CEOs, strategists, coaches, and investors for entrepreneurs to understand this radically changing global landscape and dare to build a "Brave New World."
BY SALMA ARAFA AND AHMED ABUZAID
The Startups Without Borders Summit always delivers top-notch speakers and other high notes; and 2020 is no exception. With a hybrid model, the summit this year is coming to couches all around the world with an exceptional journey through business growth, FinTech, e-commerce, and the future of remote work.
With Country Startup Tours, inspiring speakers, power-packed workshops, and an virtual investors room, the summit is going to dive into the industry trends and opportunities that the "New Normal" brings about.
Kicking off on November 14th, the virtual summit will feature 75+ speakers from around the world and from varied industries aimed at firing up your inner entrepreneur, and gearing you up for the uncertain future. From brave leaders, industry pioneers, to innovators and rule-breakers, this year's lineup will definitely inspire you. Here's 9 must-see speakers to fire you up. 
1. Ramez T. Shehadi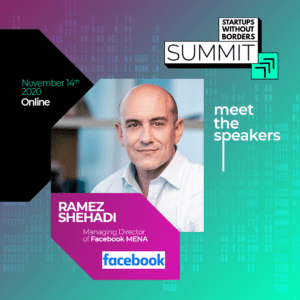 [sf_button colour="accent" type="standard" size="standard" link="https://startupswb.com/summit/get-tickets/" target="_self" icon="" dropshadow="no" rounded="yes" extraclass=""]GET YOUR  TICKET[/sf_button]
As Managing Director of Facebook MENA, he leads the company's growth and ever-expanding portfolio of apps, services, and budding businesses in the region. His experience in not only establishing but also scaling and even running regional as well as global lines of business and cross-industry portfolios for top consulting firms. Such as at Booz Allen Hamilton as a senior partner and managing director for the MENA portfolio and global co-lead at Booz Digital, to name a couple posts. His CV is also stacked with social responsibility endeavours. Ramez serves on the boards for several leading NGOs around the globe and he's a fellow and moderator of the Aspen Institute's Middle East Leadership Initiative.
2. Anja Monrad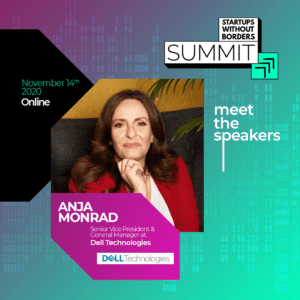 Anja Monrad leads the multinational technology giant, Dell Technologies, as the Senior Vice President and General Manager. The power lady is also Chair of Digital Skills and Jobs Coalition's Governing board and a Board member at DigitalEurope. She has joined Dell Technologies in 2000, as a Marketing Director, and has been climbing the ladder ever since. Having more than 30 years of experience in the IT sector, Monrad is one of the most important Executive women in tech.
3. Tey El-Rjula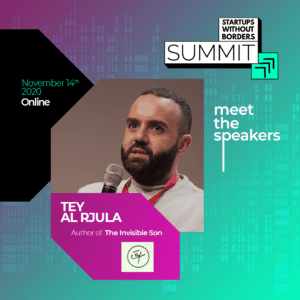 [sf_button colour="accent" type="standard" size="standard" link="https://startupswb.com/summit/get-tickets/" target="_self" icon="" dropshadow="no" rounded="yes" extraclass=""]GET YOUR  TICKET[/sf_button]
After losing vital papers to war and having an expired work permit, the then-unidentified Syrian Tey Al-Rjula had to move to a refugee camp for two years. This life-changing experience made him embark on a mission to turn invisible people to invincible ones. Using his expertise in blockchain technology, El-Rjula co-founded Tykn, a tech company that aims to create digital identifications to solve the problem of outdated paper-based identity systems that threaten millions of refugees and people on the move, all over the world.
El-Rjula is not only an award-winner tech entrepreneur; he is also a TEDx speaker, a holder of MSc in Digital Currencies and Blockchain Technology, and the author of The Invisible Son (2020).
4. Lauren Maillian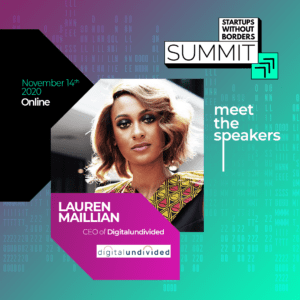 Lauren was the first Black woman to start an early-stage venture capital fund, as a founding partner and managing director at Gen Y Capital Partners. And this is not lost on her. As CEO of digitalundivided and LMB Group, she is a change agent committed to diversity, innovation, and inclusion. Digitalundivided is a social startup that leverages data and advocacy to catalyze economic growth and success for Black and Latinx women entrepreneurs. This is while LMB Group is a strategic marketing and brand advisory company driving consumer connection and innovation. With all that under her belt, it's no wonder her memoir The Path Redefined: Getting To the Top On Your Own Terms went on to become a bestseller. 
5. Sharif El-Badawi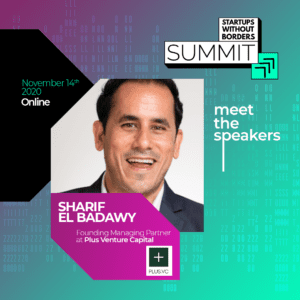 Having led 500 Startups and its MENA fund, 500 Falcons, Sharif has just co-founded Plus Venture Capital (+VC), a leading seed-stage investment firm focused on the Middle East and North Africa region and its diaspora. A technologist, investor, and serial entrepreneur, Sharif El-Badawi was also board chairman and head mentor at TechWadi. Throughout his career, El-Badawi has tried to lend a hand to MENA entrepreneurs by focusing on seed stage investments in the region and by offering his mentorship. The Egyptian-American entrepreneur has a rich experience in the investment world, and has previously served as the partner lead to VCs and Startups at Google.  
6. Christie Pitts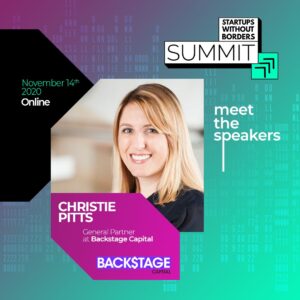 [sf_button colour="accent" type="standard" size="standard" link="https://startupswb.com/summit/get-tickets/" target="_self" icon="" dropshadow="no" rounded="yes" extraclass=""]GET YOUR  TICKET[/sf_button]
Christie Pitts is the General partner at Backstage Capital, a US-based leading VC that is championing investments in underrepresented founders, with over 140 investments under is belt. Women, people of color, and LGBTQ founders see less than 10% of all venture capital deals. And such investments are something Backstage and Pitts herself see as new opportunities, instead of problems. An early stage investor herself, Christie also co-founded Backstage Studio, where she leads Backstage's global Accelerator program, sourcing and investing in more than 80 startups led by underrepresented founders.
7. Anthony Rose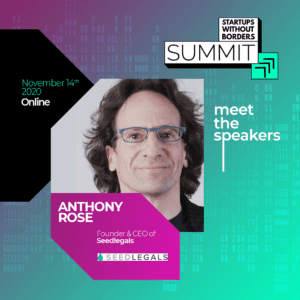 While he is best known for his larger-than-life personality which was at the forefront of launching the BBC's iPlayer, hailed by Wired UK as what saved the BBC, today Anthony is Founder & CEO of Seedlegals. He is a technical and product visionary whose career has included 3D graphics, P2P music, internet video, social TV and online communities. In 2016 Anthony co-founded SeedLegals, the revolutionary new legaltech platform that lets startups and investors complete the legals needed to build, grow and fund their business, at a fraction of the cost of using a law firm. In 2015 Anthony founded 6Tribes, a world of communities based on shared interests.
8. Maha Abouelenein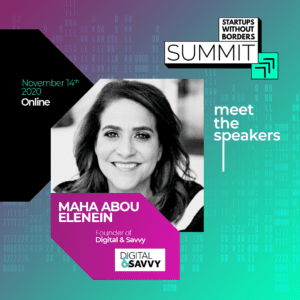 Maha Abouelenien is the Chief Value Officer (CVO) and Executive Vice President (EVP) of Business Development at VaynerX, Founder of Digital and Savvy Podcast, and Former Head of Communications at Google MENA. With more than 20 years of experience in corporate communications, PR strategy, and campaign management, the PR boss lady is considered as one of the most valuable Egyptian communications experts.
9. Eamonn Carey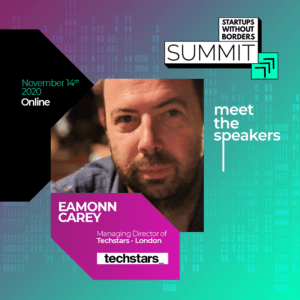 [sf_button colour="accent" type="standard" size="standard" link="https://startupswb.com/summit/get-tickets/" target="_self" icon="" dropshadow="no" rounded="yes" extraclass=""]GET YOUR  TICKET[/sf_button]
Eamonn Carey is the Managing Director of Techstars London, and a partner at The Fund. He's invested in over 60 companies across the US, Europe, Africa and Asia, and was previously a founder himself. Previously, he was the MD at Techstars Connection in partnership with AB InBev program in New York, and have worked as a mentor on Techstars and multiple other accelerator programs across Europe, the US, the Middle East and Asia. He has invested in over 50 companies around the world, and is a regular speaker at conferences around the world – including Web Summit, Collision, SXSW, Mobile World Congress, Slush, Slush Tokyo, Pioneers, Tech Open Air, the Pirate Summit, Arabnet, GITEX, the Global Apps Summit, the Mobile Games Forum. 
This is just the tip of the iceberg! Get your tickets and find out more here.