Young social entrepreneur Spandana Palaypu founded ZoEasy in 2016, in an effort to make the employment systems in Dubai more transparent. In episode 33 of the Startups Without Borders podcast, Spandana tells the story behind ZoEasy and spills the beans on the tactics and mindset that allowed her to take seemingly impossible chances and reach over 70,000 jobseekers along the way.
By: Mattia Segni
Dubai is a city home to the tallest skyscrapers, some of the most successful businessmen and women, and one of the highest concentrations of wealth in the world. However, most people tend to overlook the individuals responsible for the astonishingly fast construction of this megalopolis: blue-collar and expat workers. Spandana Palaypu is not like most people.
In 2016, at the age of 20, she founded ZoEasy, a social business that supports blue-collar workers to find fair employment opportunities in Dubai. So far, Spandana has managed to generate a database of 70 000 jobseekers, with more than 20 partnerships with ethical employers and great organisations, and they have successfully trained and placed over a thousand blue-collar workers.
But social entrepreneurship was not always Spandana's objective. In fact, her original idea was to go into consulting. This was before she had the opportunity of hearing Sabina's story, a blue-collar worker who had been "sold a dream by a recruitment agent in her home country that was very far from reality" and found herself being a cleaner in Dubai when in reality she wanted to go into retail.
"She ended up paying US $3,000 in advance to the recruitment agent for a job that she wasn't actually prepared for and she ended up repaying that debt for about a year and a half" explained Spandana. After hearing similar stories from multiple other blue-collar workers, she realised that these were not just rare instances and decided to start looking for ways to make the system more transparent. 
Spandana's objective was  to "educate and match the migrant blue-collar community with dignified employment opportunities". Connecting aspiring workers to genuine employment opportunities is one thing, but the educational part is equally as important to ZoEasy because it contributes to the formation of these workers, and it is a step towards breaking the blue-collar worker mistreatment cycle in Dubai.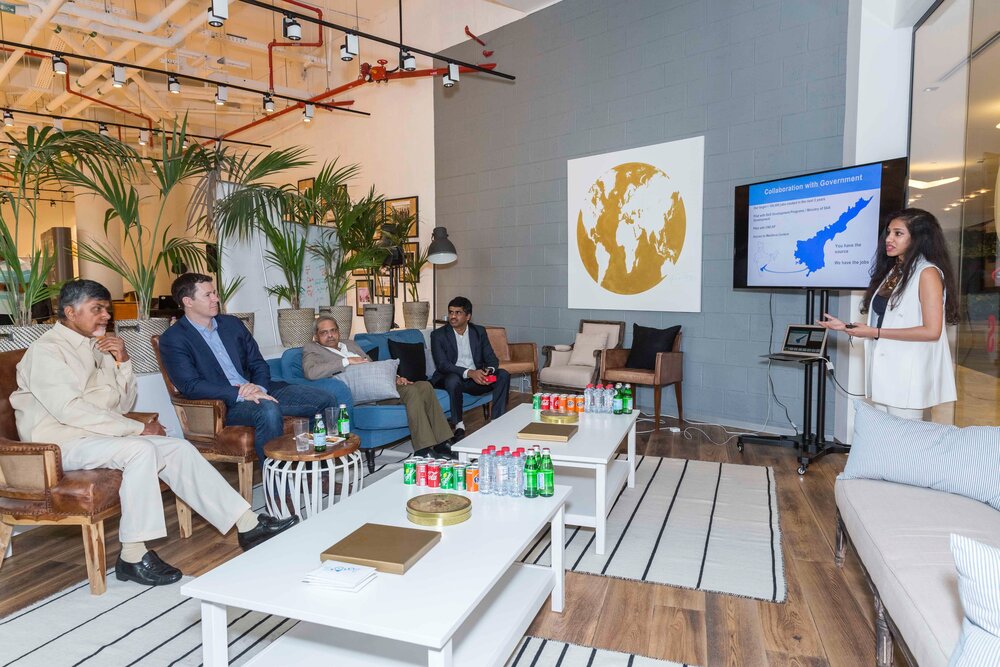 Getting back up after rejection
Spandana says that, at the beginning, she looked at the domestic workforce industry because it was more consolidated as opposed to many industries. However, this proved to be extremely challenging because the domestic industry was not easy to manoeuvre. She was faced with a lot of "no"; possibly the most discouraging yet encouraging word that an entrepreneur can hear, especially a young one. Initially, for Spandana, it was quite discouraging: "It was reaching a point where I started to question myself. Is this a path worth treating? Am I able to make enough headweight?". A 'no' can serve as fuel and motivation to prove people wrong and find a way to succeed just as much as it can serve as a blow to one's confidence and motivation. It all depends on the entrepreneur and their personality. 
However, as Spandana says, "don't be dejected by no's because two meaningful yes's will make a big difference". Eventually, Spandana and ZoEasy came across just that, two 'yes' that changed everything. One 'yes' came from Forbes, when Spandana and ZoEasy were included as one of the 50 Startups to Watch, and the other came from One Young World when her application for 'Enterprise for Peace Scholar' was accepted. 
These are two 'yes' that helped ZoEasy gain credibility, a simple yet ever so important part of building a startup. "Over the years, you establish your credibility through partnerships and growth," says Spandana. In fact, a critical part of her journey was when ZoEasy managed to guarantee their first government partnership. This was essential as it gave her access to "a huge database of people who are looking for employment abroad and you can do it in a more dignified manner or at least help set policies and procedures in place that can actually help facilitate that".
How did a 20-year-old manage to partner with the government?
When Spandana was working at an incubator called 1776 in Dubai, she received the news that there was a delegation visit that was taking place in her same office building conducted by the Government of (14'07) with the chief minister present. She "tracked down the people that were heading the chief minister's delegation and got them to come to the office space and explained the whole idea to them".
The chief minister himself showed up the day after to hear her pitch, a moment Spandana remembers very vividly to this day. Consequently, ZoEasy was connected directly to relevant ministries and formed their first government partnership: a "wonderful" moment for Spandana and her team. It was thanks to her courage and perseverance that ZoEasy took such an important step early on in the journey. 
Confronting adversity and challenges as an entrepreneur
After all, it is not everyday that a female social entrepreneur guarantees a government partnership at such a young age and in a country like the UAE. In fact, it is quite a daunting task. Spandana did not shy away from such an opportunity, no matter how intimidating it might have been. She promotes the idea that, as an entrepreneur, "if you know your subject in and out and it just flows and you know what you're putting forward and you have the ability to challenge logically, people will listen and value what you're saying".
ZoEasy's founder and CEO knows more than most people about the difficulties that one faces in the world of entrepreneurship. She explains that the most important steps to take as an aspiring entrepreneur in today's world are:
Laying out a budget (which forces you to look two, three, four years into the future).

Investing in yourself ("you are the biggest asset of your firm").

Learning how to combine numbers with storytelling (storytelling is a way of getting people to invest and believe).

Learning how to pitch your idea in 2 minutes.

Go go for it; "what's the worst that could happen?".
This is the mindset that has taken Spandana to where she is today. It is safe to say that the future is looking bright for the young entrepreneur and ZoEasy, whose goal looking forward remains the same: to "impact people on a global level".
Listen to the full interview on the Startups Without Borders Podcast here.