As the Boost Without Borders Program comes to an end, 10 startups from Gaza and the West Bank will pitch their ideas for up to $20,000 in cash prizes. The initiative, in partnership with Meta, included an Investment Readiness program for 50 startups. 
By SWB team
Startups Without Borders is hosting the Boost Without Borders Finals, a pitch competition where 10 startups will present their businesses for a chance to win up to $20,000 in cash prizes.
The event, the first of its kind in the Gaza strip, marks the conclusion of the Boost Without Borders Program, an initiative launched in partnership with Meta to support Palestinian entrepreneurs and small businesses, through digital marketing training and an Investment Readiness Program aimed at developing their skills and strengthening their businesses.
The event will take place on Tuesday 6th at Heaven's in Gaza, featuring a panel discussion, followed by 10 startup founders, who will pitch their idea to a jury panel composed of international investors and experts, and a networking session.
The discussion panel, titled: "Navigating the investment landscape in turbulent economies. What are the opportunities?" will feature leading actors in the Palestinian investment scene, including Ambar Amleh, Managing Partner at Ibtikar Fund; Yousef ElHallaq, Investment Readiness Officer at Gaza Sky Geeks; Laith Kassis, Managing Director at Fikra Innovation Hub; Khaled Abu ALkheir, Early Stage Financing Programs Manager at IPSD; andHassan Mansi, Head of Ecosystem Development Programs at Flat6Labs from Egypt.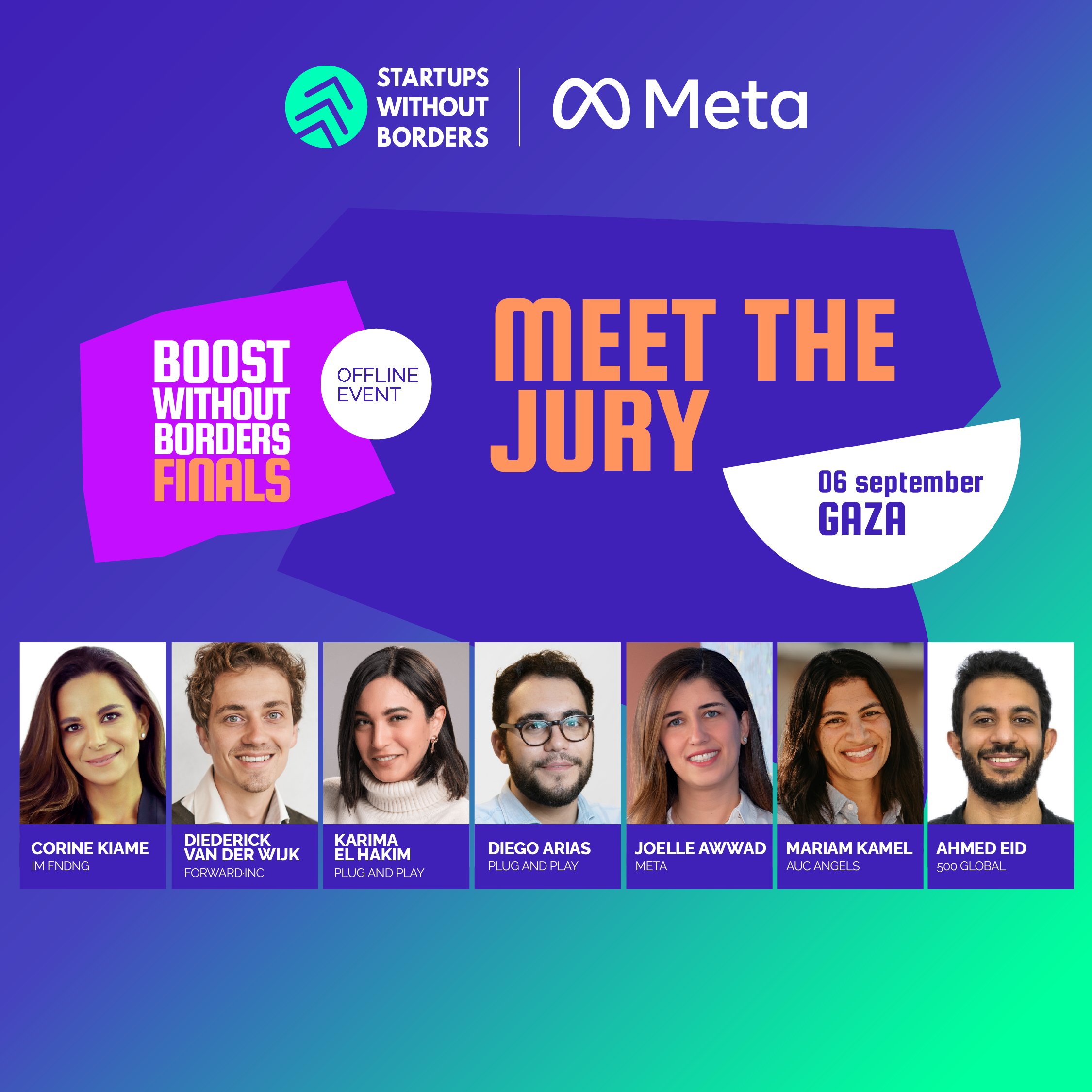 Following the discussion, the startup competition will feature 10 Palestinian startups from Gaza and the West Bank pitching in a hybrid online-offline format, in front of a international jury panel composed by Joelle Awad, Head of Policy Programs for the Middle East, North Africa and Turkey at Meta; Corine Kiame, Chief Investment Officer at IM Funding, Mariam Kamel, Manager of AUC Angels; Diederick van der Wijk, Co-Founder of Forward Incubator; Karima el Hakim, Country Director at Plug and Play; and Diego Arias, Associate at Plug and Play. 
The competition's criteria include growth, impact, and business models of the companies participating. The winners will receive financial rewards of up to $20,000 to support their growth and operations. 
The competition marks the conclusion of the 'Boost Without Borders – Palestine,' program, which aims to build the capacities of small business owners and entrepreneurs as well as enabling organizations to lead a stronger business ecosystem in Palestine. The program included an investment readiness program for 50 local businesses, and a TOT training program for accelerators, incubators and entrepreneurship support programs in Palestine.
This program also featured a series of Metaboost training sessions for 500 entrepreneurs, in addition to masterclasses by external expert speakers from Meta and partner companies.
The event will be streamed live on Startups Without Borders' Facebook page.