The startup, which offers a medical system to simplify and manage work in medical facilities, won the first prize in the competition, organized by Startups Without Borders in partnership with Meta. 
By SWB Team
Startups Without Borders has just concluded the Boost Without Borders Finals in partnership with Meta, a pitch competition where 10 startups presented their businesses for a chance to win up to $20,000 in cash prizes.
HealthTech startup AlRazi, based in Gaza, won the first prize in the pitch competition, taking home a cash prize of $20,000. The startup, founded by Ahmed Alron, offers a medical system to simplify and manage work in medical facilities, reducing paperwork and saving time in order to focus on the quality of medical services, including tele-medicine. 
The event, the first of its kind in the Gaza strip, marked the conclusion of the Boost Without Borders Program, an initiative launched in partnership with Meta to support Palestinian entrepreneurs and small businesses, through digital marketing training and an Investment Readiness Program aimed at developing their skills and strengthening their businesses.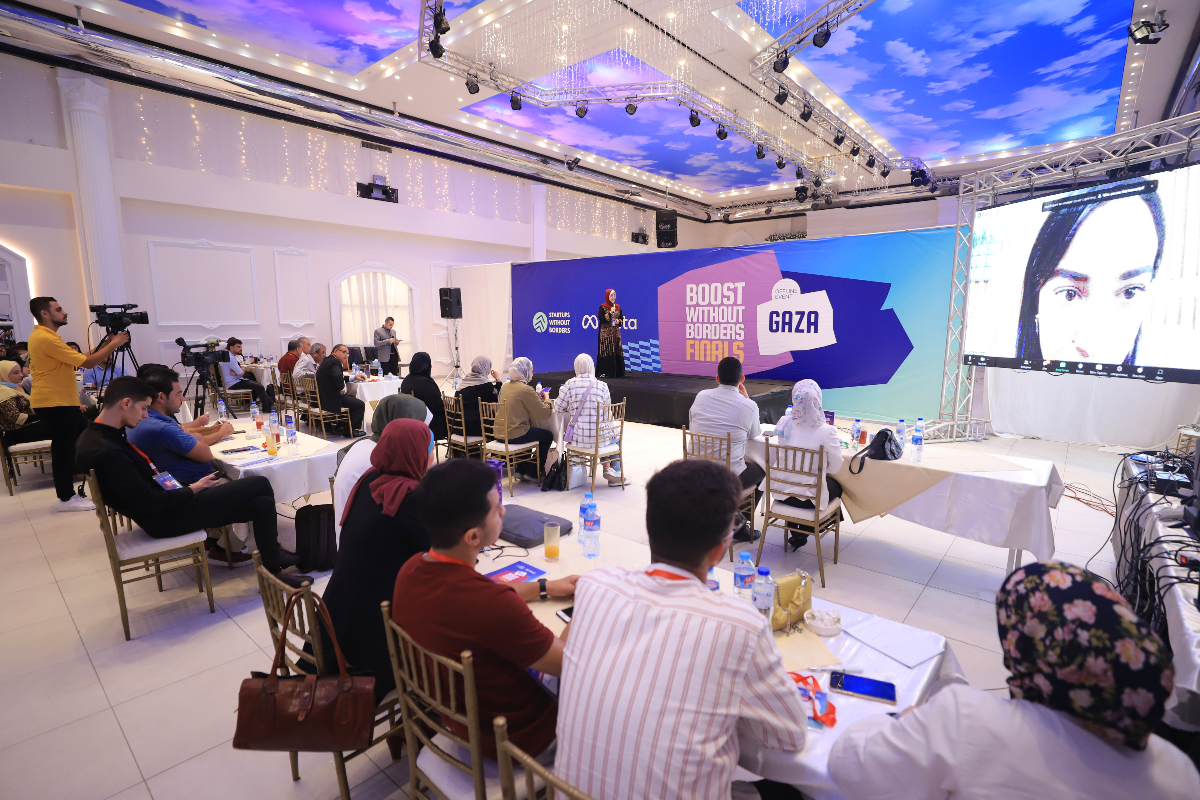 Joelle Awwad, Head of Policy Programs for the Middle East, North Africa and Turkey at Meta, commented: "Small businesses are at the heart of our communities as well as the economic health of our region. Helping them thrive and grow is our top priority. We're excited to announce the winners of the Boost Without Borders competition in Palestine, and provide entrepreneurs and small businesses with financial support and capacity building programs aimed at developing their digital skills to lead a stronger business ecosystem in Palestine, as well as give them the opportunity to grow outside Palestine."
Valentina Primo, Founder and CEO of Startups Without Borders, said: "We are thrilled to partner with Meta to support entrepreneurs in Palestine. It was an event that overcame barriers and connected Palestinian startups with investors, mentors and industry leaders from Europe and the Middle East; and that is at the core of our mission. In the past months, we have seen the talent, passion and grit of Palestinian founders thrive through the training sessions, pitch sessions, and the final competition."
Olivery, a B2B SaaS Platform for logistics companies to manage their operations, won second place. The startup, founded by Ram Mere in the West Bank, took home $15,000. 
The third winner, who pitched from Jerusalem, was Naviatix, is an impact-driven startup that saves lives through a mobile app that analyses and offers granular driving behavior understanding, data-driven risk measurement, and improved pricing models via smartphone telematics. Its founder, Hamzeh Ghosheh, was awarded $10,000.
Finally, the fourth place was awarded to Grants System, a web-based Project monitoring & Reporting System for Nonprofit Organizations founded by Hisham Qaddumi. The founder took home the prize of $5,000 to grow his business.
The event took place on September 6th at Heaven's in Gaza, featuring a panel discussion, followed by 10 startup founders, who pitched their idea to a jury panel composed of international investors and experts, and a networking session.
The startups pitched in a hybrid online-offline format to an international jury panel composed by Joelle Awad, Head of Policy Programs for the Middle East, North Africa and Turkey at Meta; Corine Kiame, Chief Investment Officer at IM Funding, Mariam Kamel, Manager of AUC Angels; Diederick van der Wijk, Co-Founder of Forward Incubator; Karima el Hakim, Country Director at Plug and Play; and Diego Arias, Associate at Plug and Play.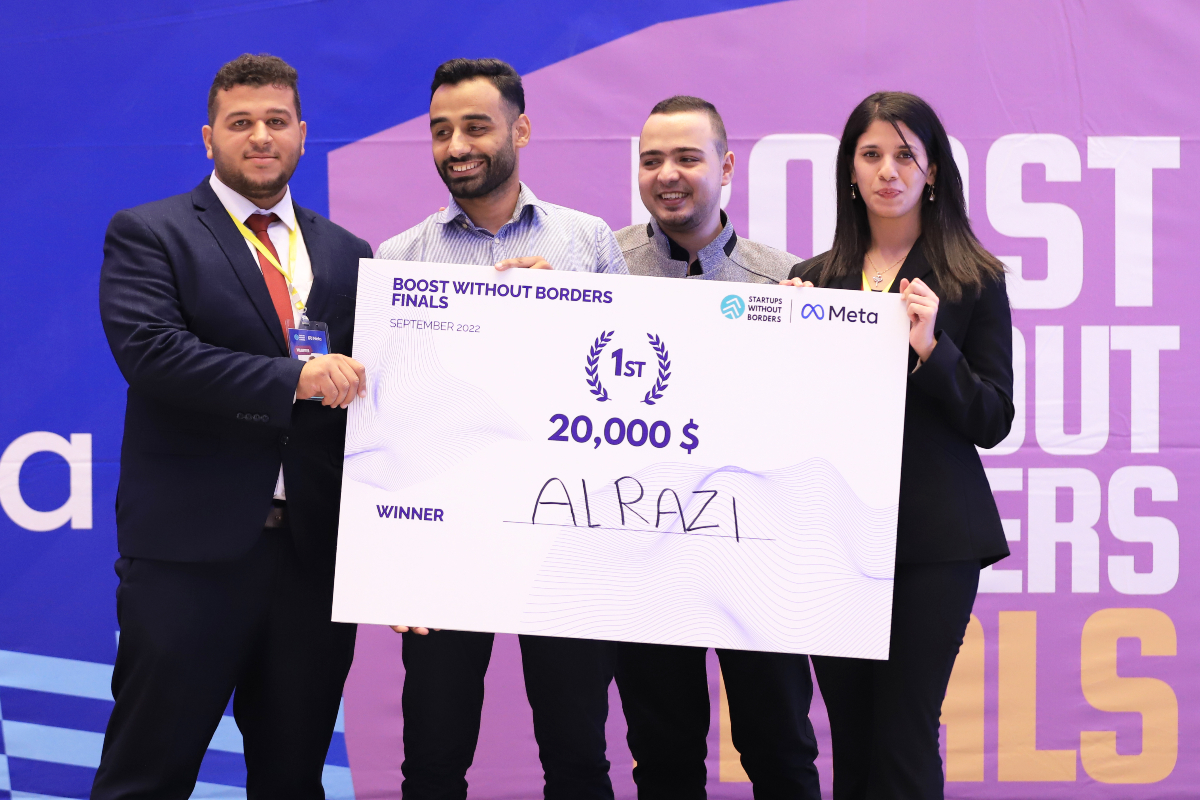 The judging criteria included growth, impact, and business models of the companies participating.  
Prior to the pitch competition, there was a hybrid discussion panel, titled: "Navigating the investment landscape in turbulent economies. What are the opportunities?" featuring leading actors in the Palestinian investment scene, including Ambar Amleh, Managing Partner at Ibtikar Fund; Yousef ElHallaq, Investment Readiness Officer at Gaza Sky Geeks; Laith Kassis, Managing Director at Fikra Innovation Hub; Khaled Abu ALkheir, Early Stage Financing Programs Manager at IPSD; andHassan Mansi, Head of Ecosystem Development Programs at Flat6Labs from Egypt.
The competition marks the conclusion of the 'Boost Without Borders – Palestine,' program, which aims to build the capacities of small business owners and entrepreneurs as well as enabling organizations to lead a stronger business ecosystem in Palestine. The program included an investment readiness program for 50 local businesses, and a TOT training program for accelerators, incubators and entrepreneurship support programs in Palestine.
This program also featured a series of Meta Boost training sessions for 500 entrepreneurs, in addition to masterclasses by external expert speakers from Meta and partner companies.