The Migrant Business Show, a free event celebrating diversity in the entrepreneurial community, is running its 5th edition in the heart of London. 
By SWB Team
The biggest migrant business event in the UK, the 5th Migrant Business Show is kick-starting on April 27th in London, setting off to celebrate the diversity of the entrepreneurial community, as well as integration between British and migrant entrepreneurs.
The event, to be held in London,  has seen steady and rapid growth each year, expecting over 2,000 attendees alongside 120 businesses exhibiting this year. Over 20 guest speakers will be sharing their knowledge by delivering speeches throughout a six-hour event, leading up to the Migrant Business Entrepreneur of The Year Award.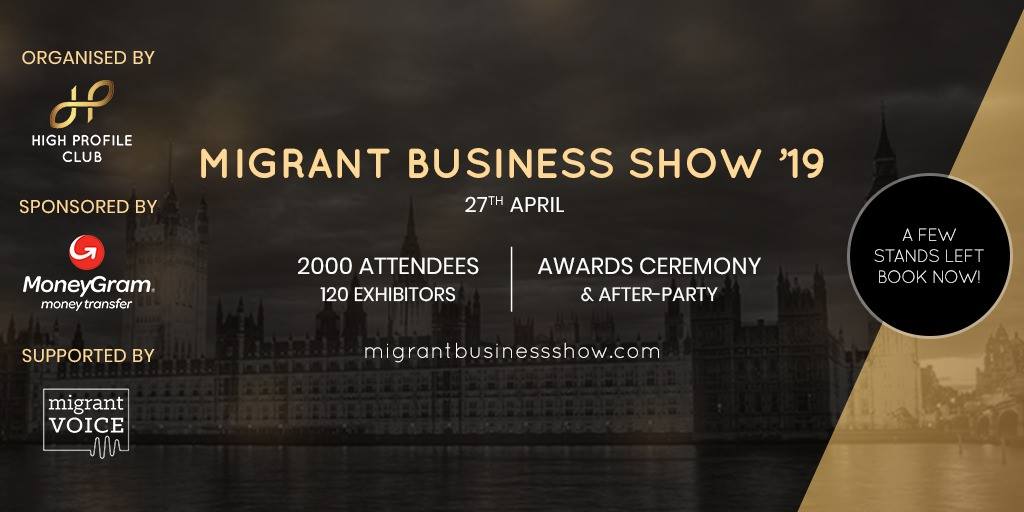 The event will also feature a full day of networking opportunities and speakers, highlighting useful topics such as "5 Techniques You Can Use To Increase Sales With Digital Marketing," "How To Engage With Big Brands To Grow Your Small Business," and "Blockchain, explained."
The event is organized by High Profile club, an award-winning tech PR platform, which was founded by a migrant entrepreneur, Rafael Dos Santos, whose TEDx Talk 'What It Takes To Be A Migrant Entrepreneur' has been watched over 154.000 times.
The hosting venue for the 5th Migrant Business Show is the Amba Hotel in Marble Arch and the Entrepreneur Awards will be held at the Houses of Parliament, one of the most iconic landmark buildings in the world. The awards ceremony starts at 7pm and is by invitation only.
Entrance is free, and tickets can be obtained here.