From the founder of Simpleia UX Consultancy to the The Cairo Angels'
Community Manager
, this week's Quarantine Sessions gather Egypt's most passionate leaders, founders, and experts to talk branding, UX, leadership, and scaling in these challenging times.
BY SWB TEAM
We teamed up with The Cairo Angels to present the new edition of the Quarantine Sessions, Ramadan edition. Each day we're hosting inspiring investors, founders, entrepreneurs, and mentors to delve into the lessons for entrepreneurs to navigate Covid19. Get ready to embark on a journey building User Experience, scaling, and branding, with some of the most inspiring entrepreneurs, coaches, and Marketing experts. 
Monday: What you need to know about UX, with Abdalrahman Osama
Where: Facebook Live   When: Monday, May 18th | 8 PM in Cairo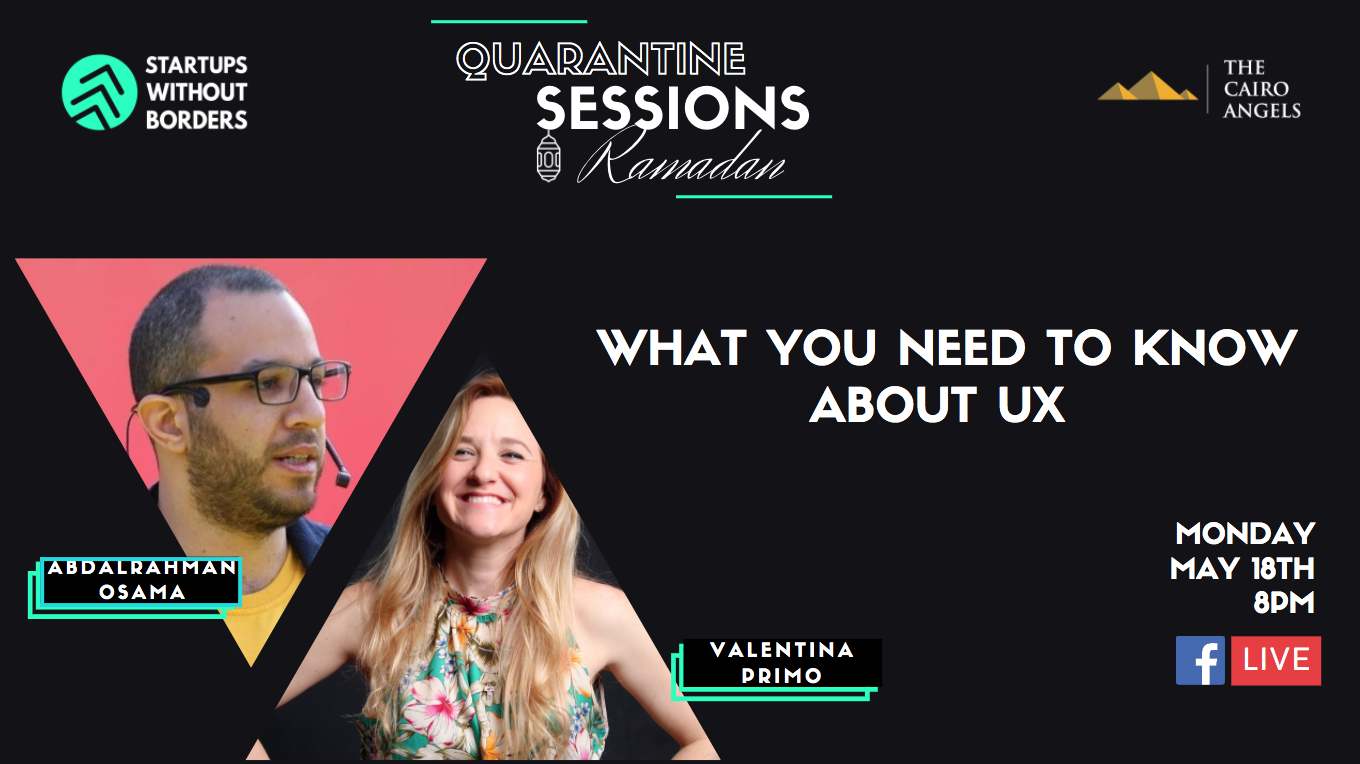 We're opening the week with Abdalrahman Osama, the founder of Simpleia UX Consultancy since 2012, where he will walk us through building the most efficient user experience for your service.
Abdalrahman has worked with massive international clients such as Qatar Foundation (Jalees), Raya (Aman), EFG Hermes (ValeU) & Elmenus. This experience made him an audacious expert in UX.
Abdalrahman Osama is also a design Mentor with Designlab among other Mentors from Facebook, Mercedes, Nike & Uber, mentored students from SF, Germany, Australia, UAE & Singapore.
To know all about User Experience, join us in this candid session with Abdalrahman Osama. 
Check out the event here.
Register to all the sessions here.
Tuesday: How to scale in the time of a  global pandemic, with Ahmed Khairy
Where: Facebook Live When: Tuesday, May 19th | 8 PM in Cairo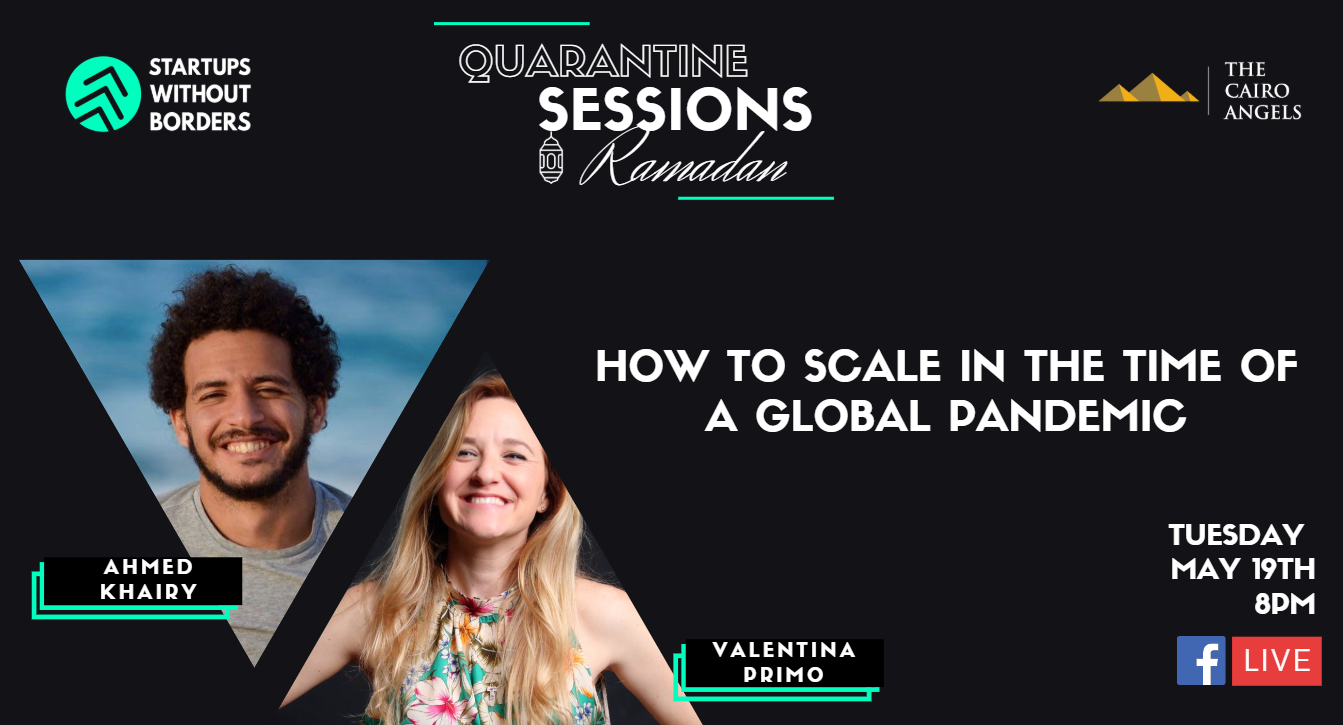 Ahmed is the cofounder of Gameball; a growth and retention engine that uses gamification and loyalty mechanisms to boost customer engagement and streamline sales funnels.
Ahmed Khairy enabled Gameball to quickly become the leading platform for digital engagement in the Middle East, catering to hundreds of businesses in more than 45 countries in less than one year of operation.
Ahmed is an engineer by education with more than 10 years of experience in engineering, project management, business consulting, and entrepreneurship.
Check out the event here.
Register to all the sessions here.
Wednesday: 5 Branding principles for startups, with Nadeen Hossam
Where: Facebook Live When: Wednesday, May 20th | 8 PM in Cairo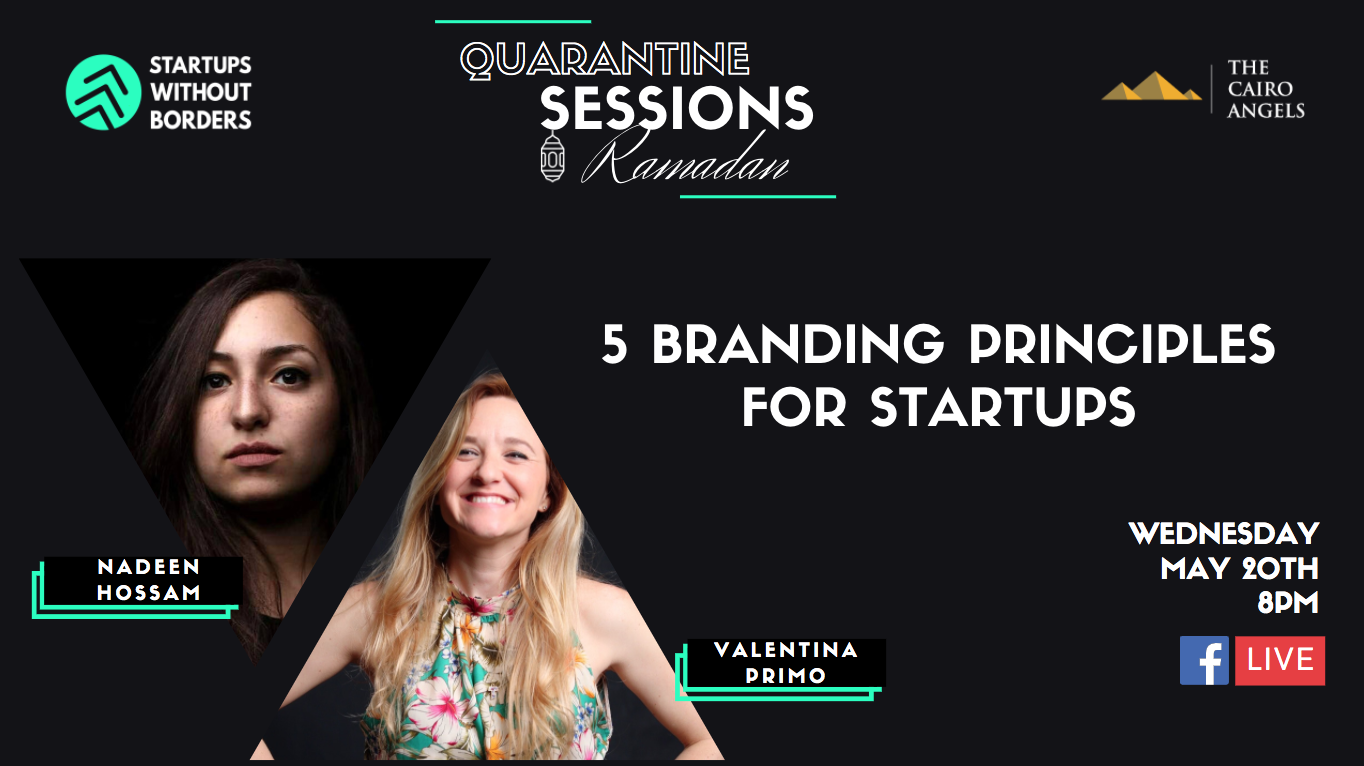 Nadeen Hossam, a Marketing Communications Specialist, with expertise in E-commerce, Travel, Ride-hailing, and NGOs.
Nadeen is solidly involved in the Entrepreneurial Ecosystem of startups and investors helping and empowering startups in MENA to grow and scale by integrating communications best practices into their day-to-day operations through Strategic Planning, Marketing, Brand Management, and Community Engagement.
Having worked with 3 national startups including Hive Ride for kids, she's currently working as a Community Manager with The Cairo Angels for Angel Investment. Driven by her passion for innovation and societal impact,
Check out the event here.
Register to all the sessions here.
Thursday: Leadership in times of crisis, with Alaa Sagaa
Where: Facebook Live  When: Thursday, May 21st  | 8 PM in Cairo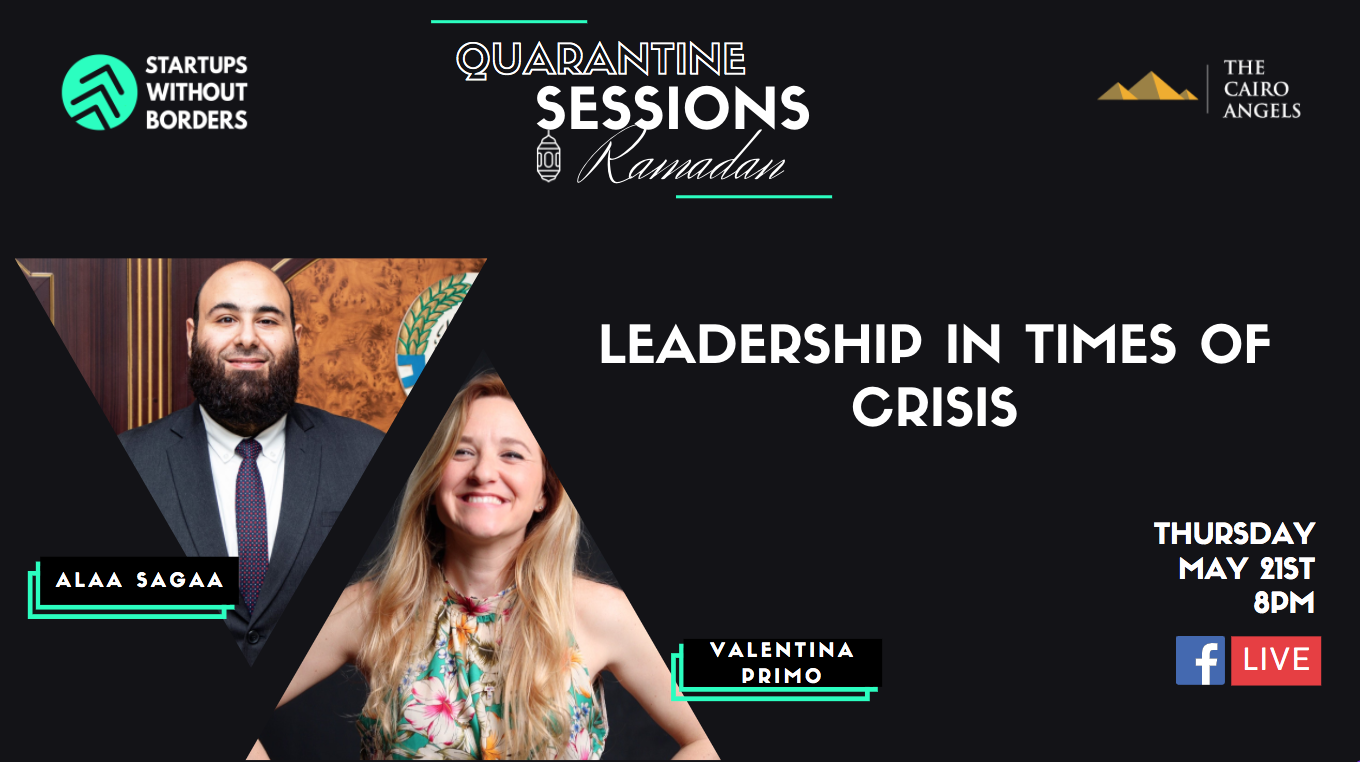 Alaa Sagga, a management consultant who is specialized in project & change management with an in-depth experience in growth strategies.
Alaa's understanding and expertise come through more than 11 years of working with different companies and on various governmental projects. This experience is coupled with certified academic and professional qualifications from prestigious institutions in the U.S, such as the PMI and Acuity Business School.
During his experience as a project and change manager, he has offered top-notch consultation services to many companies in different fields, in both public-private and government sectors across GCC & Egypt.
Check out the event here.
Register to all the sessions here, and watch all the previous episodes on our Youtube Channel here.