For the past two months, the Quarantine Sessions have been filling our home screens with inspiring lessons and advice on building a solid business. With 25 Episodes published, each session focuses on a startup related topic and is streamed on Facebook Live.
BY SWB TEAM
As the lockdown continues to keep 3 billion people locked at home during
Ramadan season, we teamed up with The Cairo Angels to feature inspiring investors, entrepreneurs, and mentors, to talk about a wild series of topics, ranging from crisis management to team building, and PR for startups.  
So what should you be looking forward to this week?  Here's 4 sessions to fire you up.

1- 5 Tips to Build a go-to-market strategy – Ahmed Galal.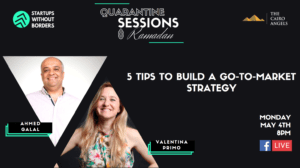 Where: Facebook Live   When: Monday, May 4th | 8 PM in Cairo
Coming with 7 years of passion practice in Web development and E-business along with building web solutions the smart shift of interest came naturally to Ahmed Galal when he decided to open his own company.  
"Since 2007 my interest was opening a window for SMEs and individuals who work from home to use the internet to get more exposure, generate revenues and have an opportunity to export their products without wasting their limited resources on building websites, maintenance, updating content, managing payment gateways and E-marketing campaigns." Says Ahmed Galal. 
2.Dealing with Coronavirus with your company's team-Hadeer Shalaby.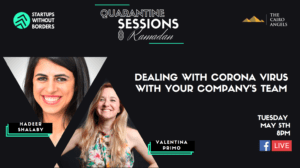 Where: Facebook Live When: Tuesday, May 5th | 8 PM in Cairo
On this special episode of the Quarantine Sessions, we will host the Former General Manager of Careem Bus at Careem Egypt, Hadeel Shalaby. 
The woman entrepreneur who was leading and growing the team while establishing a brand in the market. Prior to joining Careem, Hadeer was the CEO and Founder of Taxi Al Sahel that offered a ride-hailing service for the first time in the North Coast, Egypt. In April 2015, Careem acquired Taxi Al Sahel.  
Hadeer was also selected as one of the Top 50 most influential women in Egypt in 2016.
3. 5 crisis management lessons – Ayman Ashour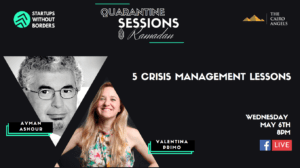 Where: Facebook Live When: Wednesday, May 6th | 8 PM in Cairo
35 years of experience in the ID and Security Industry will be poured into this discussion with Ayman Ashour, the Founder and Managing Director of Newton International Management, LLC. 
Dealing with crisis and executing decisions on spot is a substantial skill Ayman Ashour has gained as he served as Chairman and CEO of Bluehill ID and Identive Group, as COO and later CEO of the ASSA ABLOY Identification Technology Group (ITG). besides the further experience empowerment he achieved as he served as Managing Director of Williams Plc Asia Operations encompassing the Asian units of Chubb, Kidde & Yale, and the global operations of Guardforce International and Chubb Physical Security Group.
In this session, the Founder and Management Director of Newton Internation Management will be sharing with us 5 essential lessons for Crisis Management.
4.How to do the right PR for Startups- Amr Essam.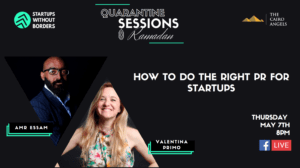 Where: Facebook Live  When: Thursday, May 7th | 8 PM in Cairo
Amr Essam, The graduate with Bachelors' Degree in Architecture from Misr International University and a  double degree from Lichtenstein University will be hosted on our last day of this week to join and open discussion startups, Public Relations, and spreading the word about your growing SME.
Having worked on the art-directing of award-winning campaigns and marketing strategies for multiple international brands, this session will be filled with artistic creativity for all aspiring individuals who want to enter the smart world of Public Relations.
With over 8 years of experience in branding and media production, working with the creative kitchens of some of Egypt's leading creative and, PR agencies, Amr Esssam will mentor us in this session on How To Do the Right PR for Startups.
Watch the sessions from Monday to Thursday at 8PM (GMT+2), and watch all the previous episodes on our Youtube Channel here.