In the last episode of the #SWBSummit series, we bring the panel where Egyptian power lady Yara El Braidy sits with two Egyptian entrepreneurs experiencing diverse ecosystems in Jordan and the UK: Mohamed Salah and Amr Shereen.
By SWB Team
The lack of diversity is costing the tech industry a missed opportunity worth almost $400 billion dollars. What if we started looking at migration as an opportunity? What if we leveraged on this diversity to build more innovative startups, that can build different solutions to problems we're not even seeing?
More importantly, what actually makes a diverse startup ecosystem?
Today, we're bringing yet another panel discussion from the Startups Without Borders Summit, where Egyptian communications expert Yara El Braidy sits with two Egyptian entrepreneurs experiencing diverse ecosystems in Jordan and the UK: Mohamed Salah and Amr Shereen.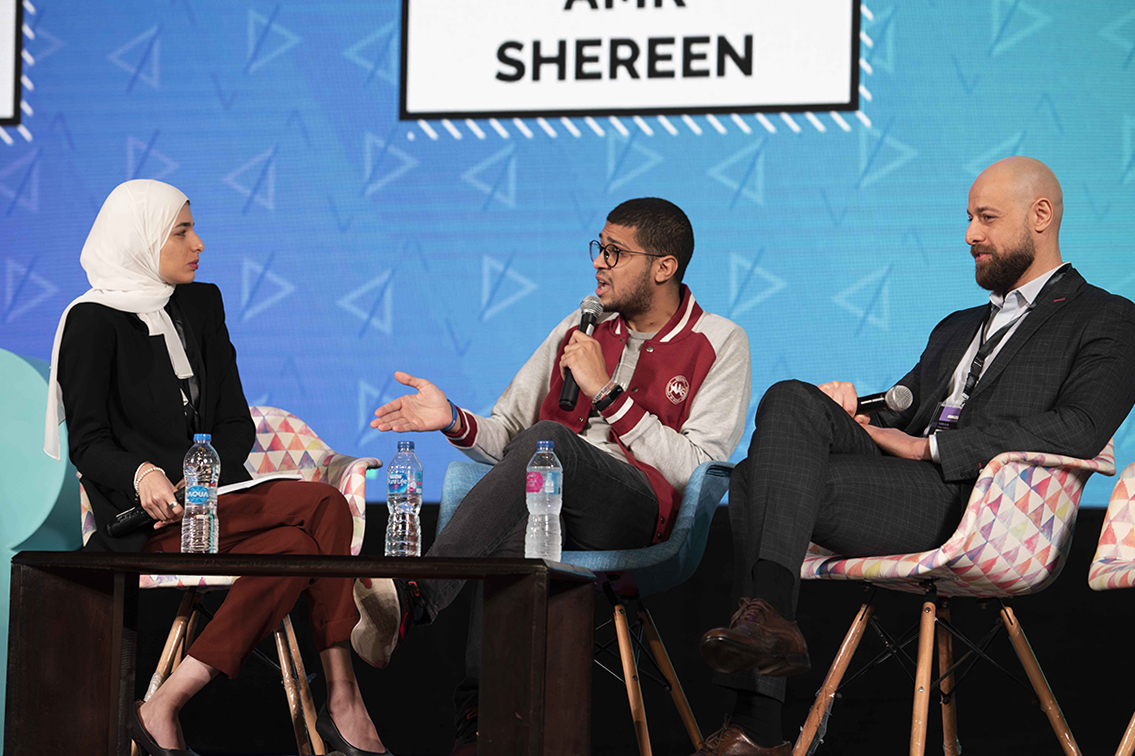 "70% of students in the UK are international students. And they enrich the ecosystem massively," says Amr Shereen, starting the panel. Shereen is a serial entrepreneur, an Angel investor, startup Mentor and Entrepreneurial ecosystems researcher and consultant.
Having developed various ventures in Egypt, Dubai and UK throughout various business sectors; retail, construction, marketing and advertising, digital marketing and e-commerce. Amr received his MBA degree from the University of Glasgow in Scotland, UK, specialising in entrepreneurship, and has recently concluded in his research on the university entrepreneurial ecosystem.
"People are leaving their home towns for so many reasons. But as long as everyone is not working together, there is no achievement in diversity," says Mohamed Salah.
Mohamed Salah is not only Country Director of Startup Grind in Jordan, but also founder of "Social n' Tech"; a media platform that focuses on creating online and offline content in the fields of Tech, Social Media and Creative Industry.
"Diversity comes in different layers; in order to call a place diverse, you have to start by eliminating all barriers for minorities to get into this place," he says.
Pinpointing the barriers 
But what are those barriers? asks the moderator, Yara El Braidy. "Policies hinder diversity and, in some cultures, social norms," Shereen says. "So if we are talking about migration, it really affects the economy. Because [without migrants] you would have startups that mainly focus on the same problems, immigration is not providing diversity in ideas and innovation, while in countries that are open to immigration, you're going to see a shift in the economy. They provide solutions. They are thinking outside the box. They are coming from backgrounds where resources are not that available, so they come up with ideas that are very different. They use whatever it is that they have to come up with solutions with the resources they have, so it really benefits the economy," he says.
"The majority has the main responsibility to make any place diverse or inclusive," says Salah. "This change is very important from a business point of view before a community point of view. If anyone in the community is feeling left out, they will mostly act in a way that will not benefit the community – or the majority – at all.
Are quotas the solution?
"The solution is definitely not coming and saying 'you need to have 20% or 30% [of representation]. That is forcing diversity. And forcing diversity will never lead to inclusion if you don't believe in what you are doing as a company manager or leader," says Salah.
"We see this a lot in the Arab region. You see a lot of CEOs on stage saying 'we have 40% of human capital who are women.' And when you ask them how many chiefs they have in the team, they say zero. How many managers? zero. This is what forcing diversity looks like. There are good numbers, but they in fact don't change the situation."
Diversity and success 
When it comes to university startup ecosystems, Shereen's latest research shows the strong tendency for migrants to be more entrepreneurial than local youth.
"Most entrepreneurs coming out of the university entrepreneurial ecosystem are international entrepreneurs that become immigrants," he says. The local students are in the comfort zone. They are used to working with their mom and dad for 30 years in the same place, and then retire. So in order to start boosting the economy, they started educating local students on what being an entrepreneur is like," through workshops combining local students and international students. "The result was an increase in the number of local students from 10% to 15%," he concludes.